Top 5 Kitchen Window Design Ideas in 2023 Apr 19, 2023 By &nbspFenesta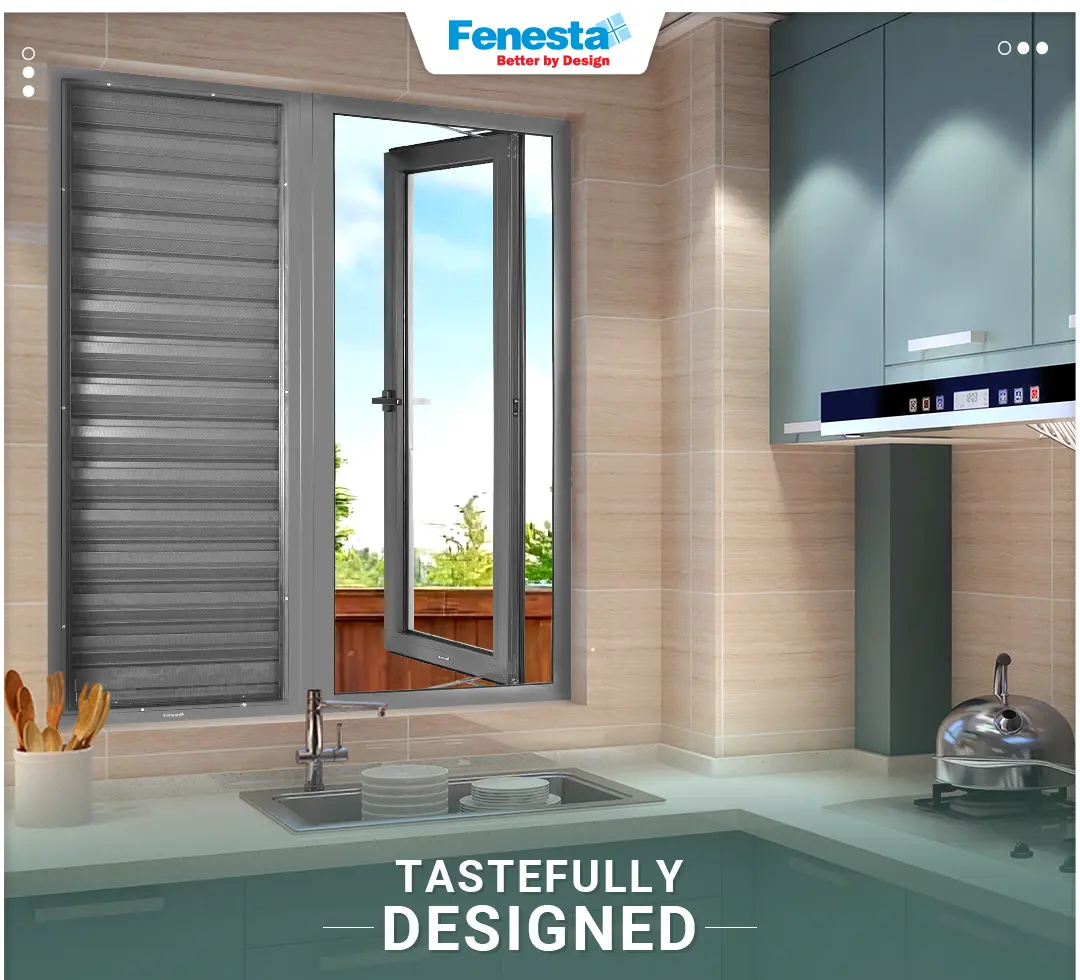 The kitchen is the heart of a home and one of the most important rooms, packed with appliances, cabinets, and much more. The windows in your kitchen should be chosen with care and given extreme importance regarding where they are being installed.
Here are 5 spectacular window designs that you can choose for your kitchen in 2023:
1. Sliding Window Designs
If your kitchen does not have enough space to allow you to open many windows, sliding window designs might just be what you are looking for. The panels of sliding windows slide over each other to open the window which makes them functional for even the smallest of kitchens. You don't have to compromise over the ventilation or natural light in your kitchen with sliding windows. Further, you can also consider installing mesh or grills, which will help safeguard your kitchen from insects, while also increasing the safety quotient of the window.
2. Villa Window Designs
Villa window designs are among the best options for kitchens. Showcasing elegance and sophistication with their simplicity, villa windows also offer excellent views of the outdoors. Additionally, they ensure ample natural light and effective ventilation, and can be chosen with a number of options in finish, colours, etc., so they complement your style and the space in your kitchen.
3. Bay Window Designs
Bay window designs may seem a little unconventional but if the kitchen is the hub in your home, where everyone naturally gravitates, a bay window may just seem perfect. It can act as a place to sit for people who want to chat as they cook, or it can be used as extra space for storage or setting up appliances in kitchens where space may come at a premium. Plus, with the ventilation and natural light they allow, a bay window may just be the perfect choice for your kitchen!
4. Casement Window Designs
Why mess with something that is tried and tested? Contemporary casement window designs too can be the right choice for your kitchen, depending on your interiors and the functionality you require from your kitchen windows. Opening inside or out, a casement window can be quite effective in directing the maximum airflow into the kitchen.
5. Combination Window Designs
If you can't really decide among all the amazing window designs that are available today, you can always just go for a combination window. As the name suggests, this type of window can be designed using more than one window design.
You can choose from a plethora of window designs for your kitchen, based on the architecture, interiors, functionality, space available, and your preferences. But you should not forget the importance of choosing the right framing material as well. Choosing from the latest uPVC or aluminium window designs is something you cannot go wrong with. They are durable and sturdy, require minimal maintenance, retain their looks for years, and are resistant to corrosion, rust, rot, fading, flaking, warping, etc. uPVC and aluminium windows also come in a range of finishes and colors, so you can rest assured that you will be able to find the most suitable window designs for your kitchen with complete ease.

Sahil Ahuja
09 Jan 2019

Good product and awesome team.

Anil Singhal
09 Jan 2019

Happy with the quality and service Team

Subha Singh
09 Jan 2019

I like the service offered by fenesta. Its one of the best upvc window making company. Thanks to fenesta raipur and Mr.prakash

Nimesh Kher 
09 Jan 2019

It's great I have recently renovated my room with fenesta windows really mind blowing.

Rakesh Baweja
09 Jan 2019

Happy with the team and services