Main Door Design: 5 Classic Ideas to Design Your Front Entrance Door! Dec 13, 2018 By &nbspFenesta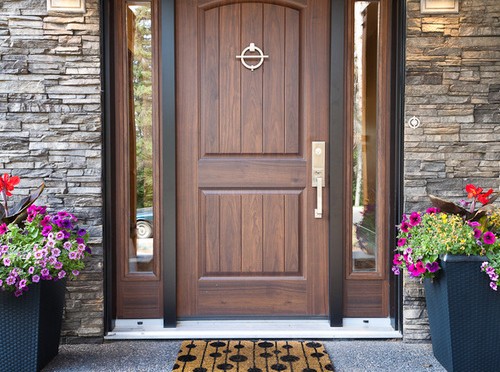 Your front door is the first impression of your home, so it's vital as it lasts forever. Here are simple ideas to make an impact:
(1) Go for New Age Wood Substitute - It imparts the feel of expensive wood. It doesn't wrap, contract, or expand like wood. Other benefits include low maintenance, higher durability, termite-free, and UPVC skin for insulation. Fenesta has various options for designer doors in new-age wood substitutes.
(2) Presence of Exterior Lighting - Add a lighting fixture at the entrance door, either hanging from the ceiling or on the house plate.
(3) Choose Your Signature Style - Opt for a design & color for your door which makes a style statement. There are various options in design and color for doors in Fenesta. You can consider customization of door design in a contemporary or a modern look depending on your budget and needs.
(4) Green is In - Use potted plants with flowers or a creeper on the entrance. It gives a fresh, warm and a gratifying glimpse to the home entrance.
(5) Accessorize It - Fenesta has a remarkable range of door handles for contemporary, stylish, and modern homes with various finish options. Choose the one which blends with the look of your door or window and defines your signature style.
Other accessories that will highlight the door are doorbells, Door Knockers, Doormat, Number and Nameplate, etc.
---
Frequently Asked Questions
Que 1: Which direction is best for main door?
Ans: According to Vastu, it is considered auspicious to have the main door facing the northeast, north, east, or west directions. It is advised to avoid placing the main entrance gate in the southwest, south, northwest (north side), or southeast directions.
Que 2: What is the standard size front door?
Ans: The standard dimensions for an entry door are as follows: Height: 80 inches (equivalent to 6 feet 8 inches), Thickness: 1 3/4 inches. The standard width is 36 inches, although options of 30 inches and 32 inches are also available.
Que 3: How can I decorate my front door entrance?
Ans: Hang a wreath, place potted plants, add a welcome mat, install outdoor lighting, use decorative door hardware, paint the door, and display a seasonal or personalized sign.

Sahil Ahuja
09 Jan 2019

Good product and awesome team.

Anil Singhal
09 Jan 2019

Happy with the quality and service Team

Subha Singh
09 Jan 2019

I like the service offered by fenesta. Its one of the best upvc window making company. Thanks to fenesta raipur and Mr.prakash

Nimesh Kher 
09 Jan 2019

It's great I have recently renovated my room with fenesta windows really mind blowing.

Rakesh Baweja
09 Jan 2019

Happy with the team and services