Aluminium Door Design Ideas for Commercial Spaces May 08, 2023 By &nbspFenesta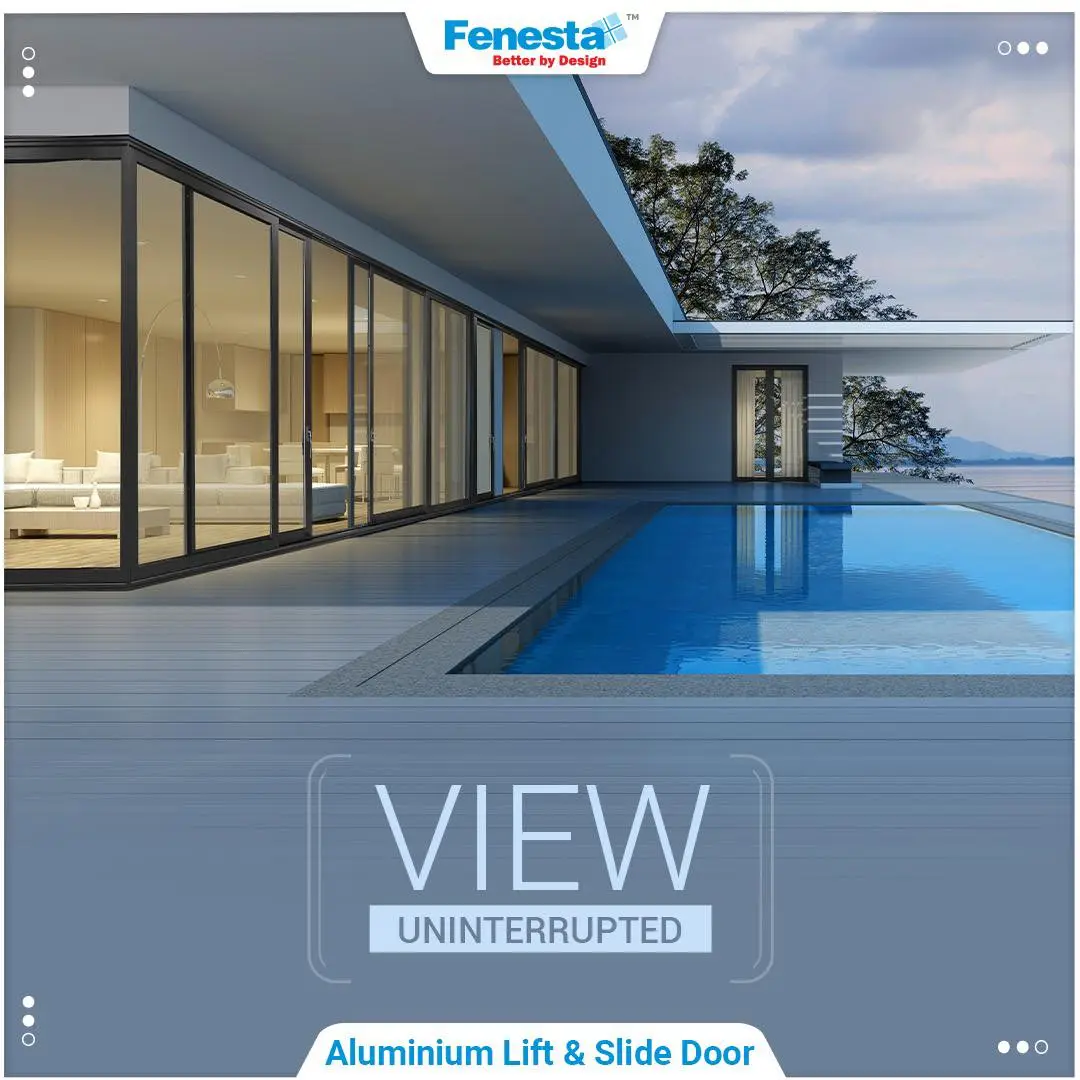 Doors have a significant impact on a number of factors, such as security, ventilation, space management, etc. If chosen wisely, a door can be more than a simple, functional barricade for the opening in your room. They can help enhance the appearance of your space, uplifting the overall aesthetic appeal with ease.
Today, with a number of advantages, like durability, sturdiness, thermal and sound insulation, minimal maintenance requirements, and design flexibility, aluminium has managed to make its way to the top as a manufacturing material for doors for both commercial and residential spaces.
However, even within aluminium doors, there is a wide range of options to choose from. Whether you're looking for aluminium front door designs or internal door designs, here are some types of aluminium doors that you can't go wrong with:
Design
An aluminium door with a sliding design is one of the most popular choices for commercial and residential spaces. Aluminium sliding doors offer high functionality and several advantages to offer. The best part is that they are well-suited for a number of architectural designs and can help enhance the overall aesthetics of contemporary as well as modern spaces with ease.
A Sleek Aluminium Casement Door Design
A casement door can be opened both inwards and outwards and is a design that has been used for ages. When you bring together the functionality of the casement door design with aluminium frames, you get doors that can effortlessly uplift the look of any space and add an element of elegance to your room.
Aluminium Slide and Fold Door Designs
An aluminium door design with slide and fold functionality helps seamlessly blend indoors and outdoors, providing maximum glass area with minimum sight lines to ensure your view of the outside is unhampered. These doors are pleasing to look at, highly functional, allow maximum amounts of natural light into a room, and are good for ventilation as well. These aluminium door designs can be used in rooms where space is at a premium, as their functioning does not take a lot of room and they can also be used to simulate a wall in huge spaces that require a separator.
The Functional Aluminium Swing Door Design
Designed to elevate the aesthetic appeal of any space, aluminium swing doors are available in single- and double-sash variants. These doors utilise special hydraulics that hold them in place when open, and they can be closed with just a slight push/pull. Aluminium swing doors have zero thresholds, and their swing speed is also adjustable, which makes them extremely convenient in terms of accessibility.
The Flexible Aluminium Lift and Slide Door Design
When these doors are opened, using the lift and slide mechanism, the doors lift onto their tracks instead of sliding it within them. Aluminium lift and slide doors offer high durability, design flexibility, and a large glass surface area for uninterrupted views. Aluminium lift and slide doors are sturdy, easy to maintain doors that ensure optimum space utilisation as well as flexible functionality.
Aluminium doors have a lot to offer and as long as you put in the due research and thought into making the right choice, you can rest assured that your aluminium doors will be a great addition for your space.
Disclaimer: This post and image is exclusively for Fenesta.

Sahil Ahuja
09 Jan 2019

Good product and awesome team.

Anil Singhal
09 Jan 2019

Happy with the quality and service Team

Subha Singh
09 Jan 2019

I like the service offered by fenesta. Its one of the best upvc window making company. Thanks to fenesta raipur and Mr.prakash

Nimesh Kher 
09 Jan 2019

It's great I have recently renovated my room with fenesta windows really mind blowing.

Rakesh Baweja
09 Jan 2019

Happy with the team and services