Design Ideas: Headboard Designs for Your Bedrooms Dec 09, 2015 By &nbspFenesta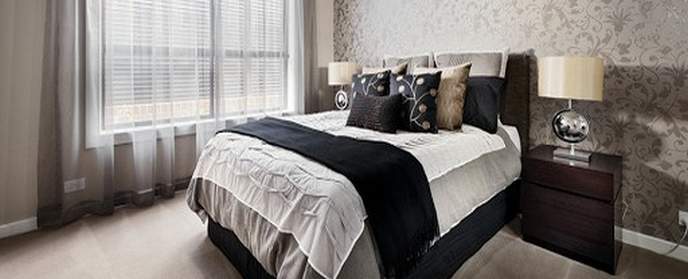 Talking about bedroom interior design, one of the ways that an individual can express their style is by going for a creative headboard. While essentially a headboard is nothing more than an extension to your bed, it can be turned into a focal point of the room by thinking just a little out of the box. Here are a few ideas that can be incorporated to create a headboard that stands out and creates an impression:
Wood Plank Headboard: As the name suggests, a wood plank headboard is nothing more than some broad wood planks nailed together and attached to the head of the bed. For a more rustic look, leave the planks untreated and unfinished.
Painted Headboard: With a painted headboard, one can really get the creativity out there. Use the headboard as a blank canvas to paint anything from your favorite pattern, to a floral design, to figurines. Scour interior design books for inspiration and ideas to jazz up your bedroom.
Padded or Upholstered Headboard: Create an upholstered headboard with squares that are padded in foam and covered in colorful fabric. The patterns you can choose are limitless and so is the choice of fabric. Try to match the fabric to something else in the room like uPVC door designs in order to create some uniformity.
Bookshelf Headboard: Attach an actual bookcase to the headboard. On the one hand it will make for a great design and on the other it will be a convenient nightstand for your books.
Shabby Chic Headboard: Visit an old furniture store and look for one of those old wood-carved headboards. Once you find one, repaint it or re-finish it in an unusual color to create an antique look headboard for your room.
Mirrored Headboard: The classic mirrored headboard is another great option. The mirror can be one solid piece or in a pattern broken up with fabric.
Adding a unique headboard can really elevate the design element in your bedroom and make it interesting. All it requires is a little research and a can-do attitude. Discover your personal style and express it via the headboard in your room!

Sahil Ahuja
09 Jan 2019

Good product and awesome team.

Anil Singhal
09 Jan 2019

Happy with the quality and service Team

Subha Singh
09 Jan 2019

I like the service offered by fenesta. Its one of the best upvc window making company. Thanks to fenesta raipur and Mr.prakash

Nimesh Kher 
09 Jan 2019

It's great I have recently renovated my room with fenesta windows really mind blowing.

Rakesh Baweja
09 Jan 2019

Happy with the team and services