Want To Get Away From Cartoons? Budget Friendly Ideas for Kids Rooms Mar 09, 2016 By &nbspFenesta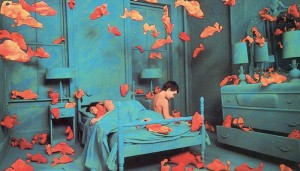 When it comes to decorating your child's room, everything does not have to start and end with cartoons. While cartoon characters and their accompanying entourage are very popular and much loved, the patterns and designs incorporating them can sometimes burn a hole in your pocket. As an alternative, there are various other affordable kids room designs that can be chosen. Here are a few ideas to get those creative juices flowing:
Add a feature wall: Depending on whether it's for a boy or a girl you can choose one wall to attract attention. This can be done in a number of ways. One option is to color the wall solid in a bright color and stick large cutouts of the kids' favorite characters like a preferred animal or a toy on it. The advantage here is that once the child outgrows the character just replace the cutout with the current one.
Create a card or photo line: This is a simple but great idea to decorate one or more walls in a kid's room. Just tie strings from one end to the other, one below another to create a clothesline pattern. Now using clothespins use this line to hang pictures or birthday cards or any other interesting photograph that catches your child's fancy.
Add colorful furniture: Another economical but effective option for kids' rooms is colourful furniture. Use solid, bold colours like a red dresser or a blue closet or for a more calming space, use softer or neutral colours like pink or even green and yellow. Add color to a plain dresser by making bows out of ribbons and tying on handles.
Lend a personal touch: A fantastic way to add a personal touch to a kids room is to showcase the art of the child. Any school going child or even younger brings home plenty of cute artworks. Display these artworks in a reusable frame that you can update often. There is no limit to how many of these you can put in there. They will never be enough!
Decorating a child's room can be a rewarding project if tries to think out of the box. In doing so, you will generate some creative satisfaction for yourself and also have a very happy child by the end of it all.

Sahil Ahuja
09 Jan 2019

Good product and awesome team.

Anil Singhal
09 Jan 2019

Happy with the quality and service Team

Subha Singh
09 Jan 2019

I like the service offered by fenesta. Its one of the best upvc window making company. Thanks to fenesta raipur and Mr.prakash

Nimesh Kher 
09 Jan 2019

It's great I have recently renovated my room with fenesta windows really mind blowing.

Rakesh Baweja
09 Jan 2019

Happy with the team and services