Interior Design Tips: Dark Curtains For Complete Privacy Mar 08, 2016 By &nbspFenesta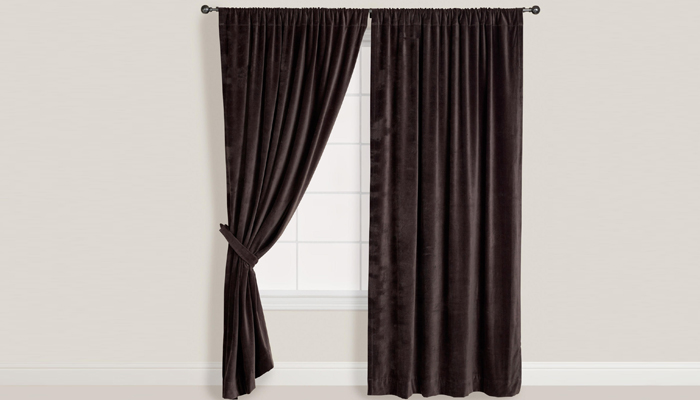 Curtains in a room serve a number of purposes, least of which is privacy. However, from a design point of view, bare and barren windows are an eye sore and look incomplete. Keeping that in mind, window curtains are an important element to any room and require careful consideration. It does not matter what kind of windows you have in a room, whether wood windows or aluminum, curtains will accentuate them to complete the decor. What curtains you choose to put in a room will depend completely on what your taste is and what kind of functionality you are wanting. If you want a light airy look, you could go for sheers or something lighter but if you want to control the light in the room as well as maintain privacy, it is a good idea to look for dark curtains. Dark curtains offer certain advantages from a privacy and security point of view. If your home has windows that when left uncovered offer a clear view of the inside, then it is recommended to go for heavier material curtains in colors that will block out the outside view. While this will give you privacy on the one hand, it is also conducive to the safety aspect. While sheers look light and pretty, there is a wide range to select from even in heavier fabrics. What is worth considering is the fact that darker curtains or blackout curtains as they may be called also have additional benefits as they facilitate energy saving, which in turn, leads to money saving. In a lot of ways darker curtains can help insulate better and lower thermal loss. When hanging a darker curtain on the windows, it also makes sense to have them slightly longer and wider to cover the entire window for complete coverage. Eventually, as mentioned earlier, being a key element to a room, what curtains you choose to hang are a matter of personal choice. That being said, darker curtains get thumbs up for whatever advantages they offer. Looking to renovate or add new curtains to a room? Choose darker colors if privacy is what you are after.

Sahil Ahuja
09 Jan 2019

Good product and awesome team.

Anil Singhal
09 Jan 2019

Happy with the quality and service Team

Subha Singh
09 Jan 2019

I like the service offered by fenesta. Its one of the best upvc window making company. Thanks to fenesta raipur and Mr.prakash

Nimesh Kher 
09 Jan 2019

It's great I have recently renovated my room with fenesta windows really mind blowing.

Rakesh Baweja
09 Jan 2019

Happy with the team and services