How to Create a Nature Themed Bathroom Mar 07, 2016 By &nbspFenesta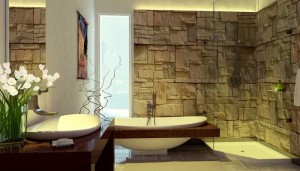 Nature themed bathrooms can be a huge stress reliever if designed in a planned way. We may not spend a lot of time in our bathrooms but it's definitely one of our very personal spaces. The concept of bathrooms has changed and is no longer confined to being an enclosure having a bath space with a toilet. With the variety of options to choose from bathrooms today can be a relaxing joint of a home space.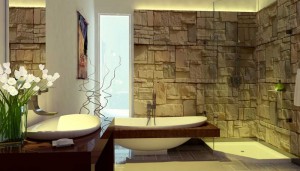 So here is a peek into the aspects of nature themed bathrooms that can be considered while designing one:
Flooring
Getting new flooring installed may require investing considerable time and money but it goes a long way in bringing in the natural ambiance. There are a host of tile and stone options that are available in the market. For a nature-inspired look opt for the tiles and stones with rugged or semi-polished finishes in earthy shades like browns, greens, blues, beiges, etc. you could also consider nature inspired tiles that are printed or carved to give a close-to-nature appeal, for example, the bamboo designed tiles.
Fixtures and Accessories
Choosing fixtures can be fun but it's important to pick fixtures and accessories that blend and complement with your bathroom interiors and bring in the 'nature' appeal. Wooden counter-tops work best with walls and flooring that is nature-inspired. Rugs can be contrasting; however, animal-patterned rugs can be the best choice one could make. Opt for stone carved basins and bathtubs but keep fittings like showers, taps, etc matt finished.
Walls
While the flooring and walls could be done up with similar or coordinated tiles, there is world of wall decor ideas for nature inspired bathrooms like cast concrete, pebble ingrained, stone walled and even wall papers. Whatever your choice, ensure it blends with your bathroom flooring.
Lighting
The best thing you can have for a bathroom is arranging for lots of natural light. If you have big uPVC windows, incorporate blinds on them such that you can get a view of the greenery outside. However if you don't have that luxury, opt for dim lights placed such that they highlight the ascent areas of your bathroom. However, don't use too much of light.
Elements
You could take your nature-inspired bathroom to the next level by installing pots of greenery or you dedicate a small area of your bathroom to greenery. This green section can be made up by installing plant pots of various sizes and surrounding them with lots of pebbles and stones of varying shapes. Include midsize to small size plants for this section.
Creativity has no boundaries and there are numerous things you can do for giving your bathroom a unique look. Its suggested that you research well before you make your choices for creating a one-of-a-kind bath space.
Have more unique bathroom ideas to share? We'd love to hear your thoughts..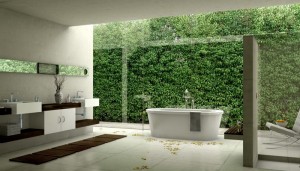 Sahil Ahuja
09 Jan 2019

Good product and awesome team.

Anil Singhal
09 Jan 2019

Happy with the quality and service Team

Subha Singh
09 Jan 2019

I like the service offered by fenesta. Its one of the best upvc window making company. Thanks to fenesta raipur and Mr.prakash

Nimesh Kher 
09 Jan 2019

It's great I have recently renovated my room with fenesta windows really mind blowing.

Rakesh Baweja
09 Jan 2019

Happy with the team and services