How Aluminium Sliding Doors Change Your Home's Look Jan 22, 2022 By &nbspFenesta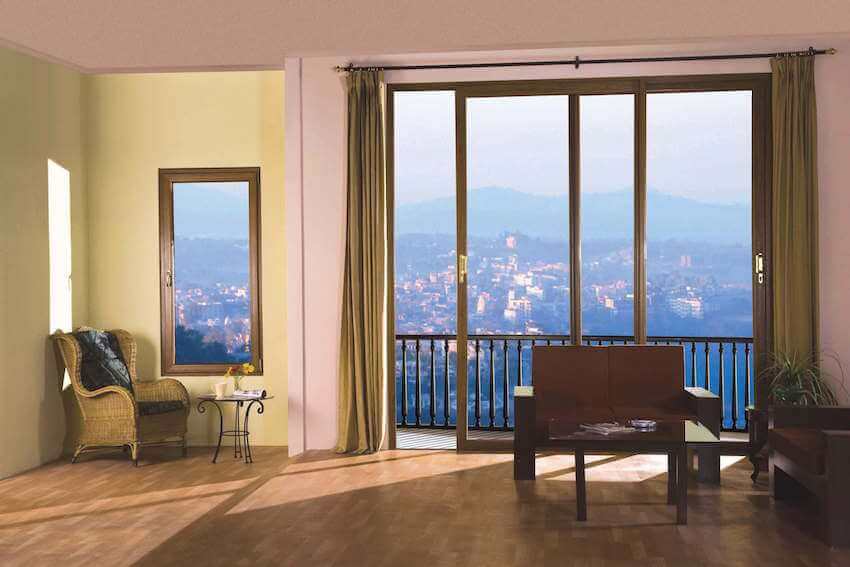 For a long time, wooden doors and windows were seen as the only option of fixture for Indian homes because of their traditional aesthetics, widespread availability and perceived superiority. While it is a great material of choice, no doubt, contemporary architecture and design are opening avenues for alternative materials such as aluminium. In the course of the last few years,aluminium windows and doors have become a popular choice among homeowners owing to the benefits they offer.
So, what makes aluminium sliding doors a great fenestration choice that continues to impress!
What are Aluminium Sliding Doors?
With their super narrow sightlines and sleek, minimalistic dimensions, aluminium sliding doors are renowned for converting drab areas into inviting ones.
Aluminum sliding doors are favored over traditional doors because they are compact and take up relatively less room. Furthermore, the aluminium frames provide an attractive and polished appearance which enhances the aesthetic quotient. Along with that, aluminium sliding doors are lightweight, strong, and resistant to corrosion.
Advantages of Sliding Screen Doors
Energy-saving:
Whether it's due to their distinctive design or the inherent qualities of aluminium, these doors provide excellent thermal insulation. Simply said, they maintain your preferred interior temperature, letting you avoid rising temperatures in the summer and freezing temperatures in the winter. After all, you deserve to be as comfortable as possible all year round!
Maximizes the current space:
For smaller spaces, it is always ideal to decorate homes in a space-saving manner. Aluminium sliding doors, a new-age fixture, are quite sought after to help do that. As a matter of fact, the installation of the aluminium sliding doors improves space management i.e. two sections may be divided or united at any moment according to usage with a simple push-pull operation to effortlessly maximise your space. As a result, aluminium sliding doors are frequently employed as bathroom or kitchen doors. These are also commonly used as external doors, such as villa doors, patio doors, living room doors, balcony doors, store doors, studio doors, garage doors, and so on.
Safety
Modern-day sliding doors are strengthened and stabilized by the use of double-paned toughened glass. If you have little children and they accidentally run into sliding glass doors, the risk of injuries have been mitigated. Sliding doors are extremely secure and simple to install.
Modern manufacturers utilize toughened, safety glass that is shatterproof and does not bend readily when subjected to force or temperature changes. Coupled with a multi-point locking mechanism is also integrated into aluminium sliding door tracks for added security.
Easy to Maintain
Another fantastic benefit of using aluminium windows is that they are low-maintenance in nature. You won't have to worry about discoloration because the material doesn't lose its luster. Cleaning them twice or three times a year is sufficient to keep them in good condition. Furthermore, the cleaning method is as simple - using soap water and wiping it down with a nice microfiber towel to keep it looking perfect.
Aluminium, on the other hand, is the material to look for when selecting a sliding door since it is more robust and requires less care. Factors such as corrosion, fading, and rotting have no effect on aluminium sliding doors. With these properties, aluminium sliding doors are able to resist a variety of natural settings while still delivering exceptional performance for an extended time frame.

Sahil Ahuja
09 Jan 2019

Good product and awesome team.

Anil Singhal
09 Jan 2019

Happy with the quality and service Team

Subha Singh
09 Jan 2019

I like the service offered by fenesta. Its one of the best upvc window making company. Thanks to fenesta raipur and Mr.prakash

Nimesh Kher 
09 Jan 2019

It's great I have recently renovated my room with fenesta windows really mind blowing.

Rakesh Baweja
09 Jan 2019

Happy with the team and services