Difference between uPVC and Aluminium Doors Aug 23, 2022 By &nbspFenesta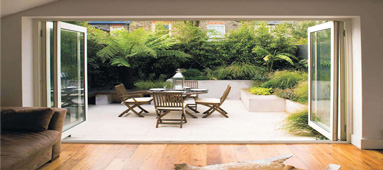 A door does not just protect your home from the outside elements, but also offers a number of other benefits and functionalities. From enhancing the aesthetic appeal of your home to improving its energy efficiency, a door plays many roles. Over the years, doors have undergone several changes in terms of the available designs and styles, structural and functional benefits offered, and even the material used to make them. Today, uPVC and aluminium have surfaced as some of the best materials for manufacturing doors, both being contemporary and durable solutions for fenestration.
What is Aluminium?
Aluminium is commonly found metal that is lightweight and offers excellent mechanical properties like high strength to density ratio. The metal is versatile, sustainable, and has a long life, which makes it a popular material.
What is uPVC?
uPVC or unplasticised polyvinyl chloride is a special formulation that is non-corrosive, meaning that uPVC does not corrode, rot, or rust. uPVC doors require low maintenance, they are energy efficient, and highly durable.
uPVC vs Aluminium Doors
Being the most popular and commonly used materials for manufacturing doors, the choice between an aluminium door or a uPVC door is a decision that must be taken after due thought and consideration. To better understand the difference between the two, it is important to understand what they have to offer, which means that uPVC and aluminium doors come with their own sets of benefits that can help you decide which one would suit your requirements better.
Benefits of Installing Aluminium Doors
As a material, aluminium is lightweight yet strong, which is widely used to manufacture doors that can easily handle the weight of glass without impeding ease of operation.

Aluminium doors are resistant to rust and weatherproof, which means that they are not affected even when exposed to extremely hot or cold temperatures.

These doors are easy to maintain and remain as good as new with just regular cleaning. For routine cleaning, a quick wipe with a damp cloth is enough for aluminium doors.

Aluminium is an indefinitely recyclable material and can be recycled completely.

Aluminium offers great design flexibility and offers a wide range of options in colours and finish.
Benefits of uPVC Doors
uPVC doors are resistant to UV rays and are not prone to rust, corrosion, or flaking. They are also weather resistant and can be installed with ease in coastal areas as well as extreme temperatures

uPVC is a poor conductor of heat, which means that uPVC doors offer good thermal insulation. They do not allow heat gain or loss from the interiors, keeping them cool in the summers and warm in the winters, which also helps reduce air conditioning bills.

uPVC doors are also very easy to maintain and can be cleaned with a damp cloth and a mild solution of soapy water every now and then.

uPVC doors are lightweight with easy installation processes.

uPVC doors are extremely durable and sturdy.
Choosing the right material for your doors is an extremely important decision that should be taken after due consideration of all relevant factors and aspects.

Sahil Ahuja
09 Jan 2019

Good product and awesome team.

Anil Singhal
09 Jan 2019

Happy with the quality and service Team

Subha Singh
09 Jan 2019

I like the service offered by fenesta. Its one of the best upvc window making company. Thanks to fenesta raipur and Mr.prakash

Nimesh Kher 
09 Jan 2019

It's great I have recently renovated my room with fenesta windows really mind blowing.

Rakesh Baweja
09 Jan 2019

Happy with the team and services