Design Ideas: How to Prep Your Patio for the Monsoons Jul 15, 2015 By &nbspFenesta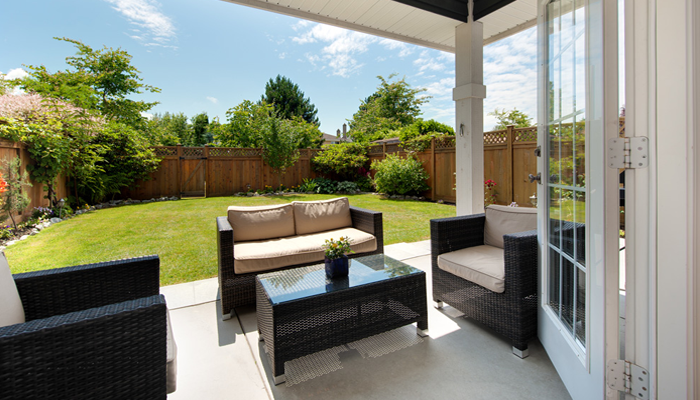 When the monsoon finally arrives with its full force, along with enjoying its beauty you will have to make certain preparations to welcome it and to minimize the inconveniences the constant downpour would cause. For obvious reasons, your patio requires much more attention as it will directly bear the brunt of the rains. So here are a few ways to prep up your patio for the monsoon.
Treat your patio furniture before the monsoon to withstand the rain whether it's been made of wrought iron or wood. If your furniture pieces are made of plastic then you do not have much to worry about. Also, take off the sheets and cushions until the season is officially done and over with. You can also install umbrellas to protect the furniture from being directly affected by the rains. It will add beauty to your outdoors too.
Due to the constant splashing of dirt on the furniture during the rains, you will have to wipe it clean after each rain. Dirt can also splash on your outdoor wall designs. You can either cover your wall with a plastic sheet or wash off the splashes after the season's done. However, if it is raining cats and dogs most of the time during the season, it would be wise to move the furniture indoors to your garage or some other place.
With rains, drainage problems tend to creep up as well. Stagnant water will not only affect your furniture but will also give a dirty look to the outdoors along with making it the area a breeding ground for insects and mosquitoes. So, before the monsoons, you can make a beautiful small channel of gravel or dig up an inconspicuous drain behind your home to take the water away from your patio.
Trim your lawn, dig up the weeds and after you're done, it's time to sit back and watch the rain come down with a steaming cup of coffee and a good book. And don't to close your Venetian blinds and windows completely so that water seepage doesn't damage the interiors of your home.
Did you like the ideas to prep your patio for the monsoons? Let us know what you do to protect your patio.

Sahil Ahuja
09 Jan 2019

Good product and awesome team.

Anil Singhal
09 Jan 2019

Happy with the quality and service Team

Subha Singh
09 Jan 2019

I like the service offered by fenesta. Its one of the best upvc window making company. Thanks to fenesta raipur and Mr.prakash

Nimesh Kher 
09 Jan 2019

It's great I have recently renovated my room with fenesta windows really mind blowing.

Rakesh Baweja
09 Jan 2019

Happy with the team and services