Custom window Treatment Ideas Mar 09, 2016 By &nbspFenesta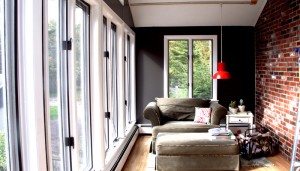 There are an infinite number of ways you can dress your windows, and there are plenty of people and places to ask for help. But if you truly want a custom window design - something no one else has - then you need to start with your own home and your design needs. Some of the biggest mistakes made in custom window treatments happen when designers are hired to handle the creative work and the result is far different from what the customer had in mind. Avoid this tragedy by either doing it yourself or having a clear-cut picture of your finished product before going to a designer. It's easiest to look at a window from the top down. Unless you have a nice frame or molding for your window, it's unlikely you'll want to leave the top completely exposed. Think decorative rods, valances, draped silk, fabric, or scarves - this is a great place to get creative and involve any details you might otherwise be afraid of incorporating. Ruffles, tassels, and scalloped drapes are popular choices because anywhere else they might be overkill. For the body of the window itself, think about how much light you want to allow in and how the window opens. Let that dictate your choices in window coverings for this area. The variety of elements allow for endless mix and match options, whether you want long gossamer drapes along with vertical blinds or cafe curtains with roman shades. Have fun with colors, patterns, and the opacity of the fabric. Find one or two colors in the palette of your existing room design and make them pop in your window design. If you want neutral instead of vibrant colors, try mixing textures and patterns found in your room for a feeling of completeness. Do a double rod at the top and layer two translucent curtains for a different look than one curtain alone. Try installing roman shades or cafe curtains at different heights in window frames to see how the light allowed in from above the covering affects the room. Experiment with darker and lighter shades of the same colors to find your favorite. Details in your window treatment can also add much more personality to your look. Tabbed curtains and curtain rings or grommets each say something different and contribute to the greater picture. What are you doing to tie back curtains when they're not in use? Creating a unique tie back can instantly add to the vibe of your windows, whether you use silken rope, a string of bead, or a thick ribbon. For super light curtains, consider tying the end into a knot and leaving it hang in the window. The curtain can always be ironed, if need be, but this is a modern, chic way to keep the fabric off the floor and make it a statement instead. As always, share with us how you've personalised your home. Do you have a preferred way of dressing up your windows? Do you like to change things around with a new season? Let us know!

Sahil Ahuja
09 Jan 2019

Good product and awesome team.

Anil Singhal
09 Jan 2019

Happy with the quality and service Team

Subha Singh
09 Jan 2019

I like the service offered by fenesta. Its one of the best upvc window making company. Thanks to fenesta raipur and Mr.prakash

Nimesh Kher 
09 Jan 2019

It's great I have recently renovated my room with fenesta windows really mind blowing.

Rakesh Baweja
09 Jan 2019

Happy with the team and services