Corner Windows - A Different Take On Home Exteriors Oct 09, 2015 By &nbspFenesta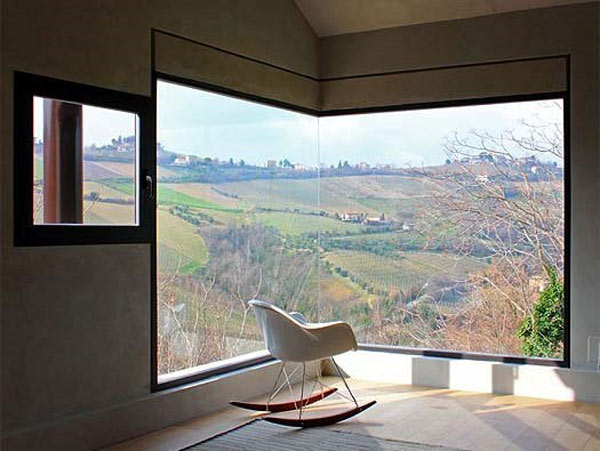 Corner windows are, just as their name suggests, windows placed on two adjacent surfaces of rooms and buildings which meet at the edge of the surfaces they're placed on. In context to the Indian architecture, these window styles are still in their nascent stage, but their demand is steadily increasing among home owners attuned to modern residential architecture in the country. Corner windows are usually accompanied by architectural styles which embody minimalism, lesser ornamentation, neat facades and simplified building forms.
Most often, transparent glass is used for corner windows and the aesthetic value that they provide is unparalleled. They can be installed as either fixed windows or those that have opening sections. Needless to say, that depends entirely no ones requirements and preferences. Corner windows are also becoming increasingly popular because they give rooms the illusion of having more space than they actually do. In addition,these windows provide abundant sunshine i.e. natural lighting inside the home and of course, give a breathtaking view of the surroundings outside.
If you're looking for more reasons why you should invest in corner windows, here they are -
1. Abundant Natural Light
As already stated, with corner windows all that you have to do is draw your curtains and let the sunshine illuminate your room. Natural lighting is the best type of lighting you can have, and it saves you a lot on your electricity bill as well. However, be careful of where you get a corner window constructed –more often than not, rooms which face the North receive the least amount of sunshine, irrespective of the time of the day and season of the year.
2. An Unparalleled View
Traditional uPVC windows are small in size and thus offer a limited view from a distance. If you want to see what's happening outside, you have to walk towards them, open them and take a peak outside. However, with corner windows, you get a wider view and a greater angle of viewing. This means that you can place a cozy armchair right next to it (or away from it), sip on a hot cup of tea and enjoy the view that you've paid for. Corner windows are best suited for rooms which face gardens (in the city) or with farms or mountains when in the countryside.
3. They Add Dimension to Your Rooms.
Corner rooms tend to invoke an immediate interest. But it doesn't stop there – you can experiment in so many ways to get the perfect corner window for your room. One of the trickiest and yet the most noticeable ways is to add curtains to your windows. Glazing bars is another popular option because they give off a very vintage and country-cottage feel to your room.
The more creative home owners can always decorate their corner window with a little dash of colour, be it via acrylic paints, stained glass painting or even making a collage out of strips of translucent papers. But be sure to do so without obstructing the view of your windows.
4. They're Available in Stylish Varieties
As already pointed out above, you don't have to worry about getting "boring" plain corner windows and making them a permanent fixture in your home. The sheer variety of unique designs windows available right now is overwhelming to say the least. A simple search on the types of corner window styles will show you how amazingly malleable and uniquely interesting their designs can be.
It'll take them a few years, but corner windows will definitely take the Indian architectural scene by a storm when they do. Why? Because in one word – they're perfect. You can get one in any corner of your home, save a lot of space while doing so, get more natural sunlight and add instant allure to your room without having to spend a fortune on it.

Sahil Ahuja
09 Jan 2019

Good product and awesome team.

Anil Singhal
09 Jan 2019

Happy with the quality and service Team

Subha Singh
09 Jan 2019

I like the service offered by fenesta. Its one of the best upvc window making company. Thanks to fenesta raipur and Mr.prakash

Nimesh Kher 
09 Jan 2019

It's great I have recently renovated my room with fenesta windows really mind blowing.

Rakesh Baweja
09 Jan 2019

Happy with the team and services