Bay Window Draperies - Uplifting your Bedroom`s Decor Aug 08, 2015 By &nbspFenesta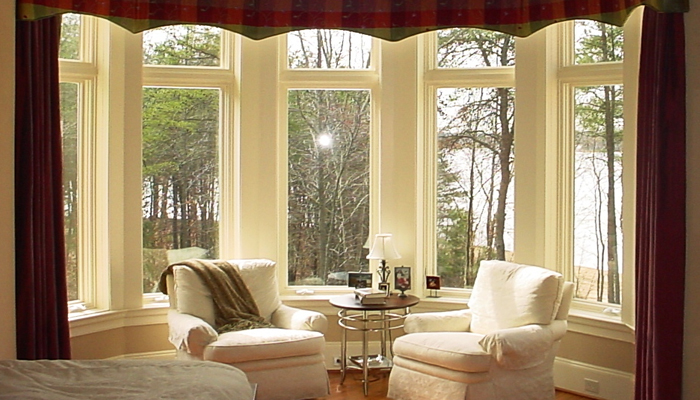 We love our bay windows at Fenesta, and even though we think they`re perfect just as they are, sometimes even they need a little touch of dressing up (or down, if that`s what you like!) with their own draperies and accents. Something as simple as changing up your draperies can uplift the decor of your bedroom and breathe fresh air into it. Now, a lot of us have a very intuitive sense for design and color palettes. However, for those of us who are aesthetically challenged, below are a few design ideas that you can consider playing with.
Silk and Satin: Silk and satin panels are traditional fabrics to give a royal look to the room. To bring your touch of luxury into the present and now, add accents like a braid or fabric tape inside each panel to keep them from dominating the entire room. lternatively, you can use two colors of silk; one for the drapes body and other for band either at top or bottom of the silk panel. If you`ve got purely white walls, don`t be afraid to play with a bold pop of color like orange or purple. Don`t worry - you`ll be pleasantly surprised!
Window seat: If you`ve created a seating area around your bay windows, then perhaps you don`t need to work on your draperies at all. Amp up the color accents with accessories like throw pillows or over-stuffed cushions in lush fabrics like velvet or even corduroy for a contemporary but rustic appeal.
A Roman touch: Fabrics and pillows not your thing? You can still update the look of your bay window by switching to shades or blinds. Try flat Roman shades instead of the ubiquitous vertical blinds. You can even play around with the color and texture to make the look entirely yours.
Sure, designing your home and finding the perfect look for it can sometimes seem like an overwhelming task, but it`s a lot easier to do if you approach the work in a planned manner. You don`t have to redo your whole house at once. Start with little areas, like your bay windows, and build it up from there.

Sahil Ahuja
09 Jan 2019

Good product and awesome team.

Anil Singhal
09 Jan 2019

Happy with the quality and service Team

Subha Singh
09 Jan 2019

I like the service offered by fenesta. Its one of the best upvc window making company. Thanks to fenesta raipur and Mr.prakash

Nimesh Kher 
09 Jan 2019

It's great I have recently renovated my room with fenesta windows really mind blowing.

Rakesh Baweja
09 Jan 2019

Happy with the team and services