Why Should I Choose Large uPVC Windows for My Home? May 11, 2020 By &nbspFenesta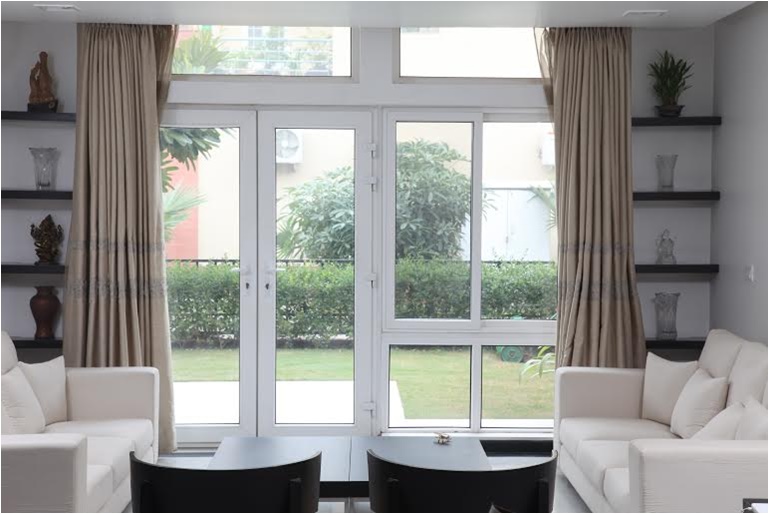 Having a home interior that appeals to the eyes is one of the most amazing things. When your guests come home and they are awestruck by the beautifully designed interiors, the feeling the hosts get is incomparable. After all, every house deserves an aesthetic that speaks about the elegance of the interiors. Today, with the availability of a plethora of interior designers and design companies, it has no doubt become easier for homeowners to give their abode the façade it deserves. However, apart from designs and patterns, lighting, and cabinets, there is one more thing that has the potential to spruce up the entire façade of your home effortlessly.
New-age building fixtures can actually level up your home's interior. Not only are they contemporarily designed but are also packed with benefits and features that are simply amazing. One of the most trending building fixtures nowadays is uPVC windows. These are residential windows that are available in a plethora of unique styles and designs, that too along with excellent properties. uPVC windows are said to be new-age windows because of the enhanced features that they possess. However, there are still a few homeowners who are sceptical about the same and often ask why they should choose uPVC windows for their home when they can opt for a conventional window style at a lesser price.
Here's how uPVC windows stake their claim as the best windows for your home: –
Amazing Views
Imagine sitting on the couch, sipping on a glass of juice with your loved one on a hot sunny day or enjoying some quality time with a cup of piping hot tea and some snacks on a rainy evening. uPVC windows for residential homes are designed to give you amazing views of the outside world. Large windows have a charm of their own as they make your abode look more appealing, desirable, and grand. Other than that, these windows bring in ample sunlight into your home, allow fresh air inside, and help in better air circulation.
Helps Retain the Warmth during Winters
Winters in some Indian cities can be quite harsh. And at that time, it becomes very important to make sure that your home interior is warm and cosy. Sure, there are room heaters available for the same but what if there was another way of providing warmth to the interiors without racking up high electricity bills? Yes, large uPVC windows for the home are designed to keep your abode's interior warmer and provide you with a cosy ambience. With strong steel reinforcements that are tucked inside the window frames, uPVC windows provide the thermal insulation you need to maintain a comfortable temperature inside your home.
Plethora of Designs
Another reason for installing large uPVC residential windows is the availability of a wide range of styles. Large window designs can include sliding windows, glass-to-glass windows, casement, and villa windows. These windows are designed to complement and augment classic as well as contemporary interiors. An interesting thing about these uPVC windows is that you can install them in the kitchen, bedroom, bathroom, and, of course, in the living room.
Requires Negligible Maintenance
A major issue with large windows is the effort that goes into maintaining them. However, with uPVC, you can say goodbye to the hassles of maintaining your home windows regularly. uPVC windows are designed with a special UV resistant blend - it is a unique topical formulation that makes the windows strong and allows them to withstand extreme temperatures year after year. These windows are termite resistant, the colours don't fade, and they do not corrode. Since the windows have such amazing properties, you don't have to worry about replacing them for a long time. At the same time, cleaning them is a relatively easy affair.
Keeps Your Electricity Costs at a Minimum
Installing large uPVC windows for the home is among the best options as they are quite energy-efficient. This helps in keeping electricity bills under control. Generally, due to the design gaps, excess of hot air finds its way into your home. To counteract this, you either switch on the air conditioner or increase the fan speed. These problems can be kept away with uPVC windows as they are designed with multiple chambered profiles, have airtight sealing, and come with double or triple glazed glasses.
There's no disputing the fact that large uPVC windows for home come with a lot of amazing benefits and features. Your abode, however humble it may be in your opinion, deserves the best. Making that happen is your choice; make the right one.

Sahil Ahuja
09 Jan 2019

Good product and awesome team.

Anil Singhal
09 Jan 2019

Happy with the quality and service Team

Subha Singh
09 Jan 2019

I like the service offered by fenesta. Its one of the best upvc window making company. Thanks to fenesta raipur and Mr.prakash

Nimesh Kher 
09 Jan 2019

It's great I have recently renovated my room with fenesta windows really mind blowing.

Rakesh Baweja
09 Jan 2019

Happy with the team and services