Want A Great First Impression? Choose The Perfect Front Door Aug 03, 2015 By &nbspFenesta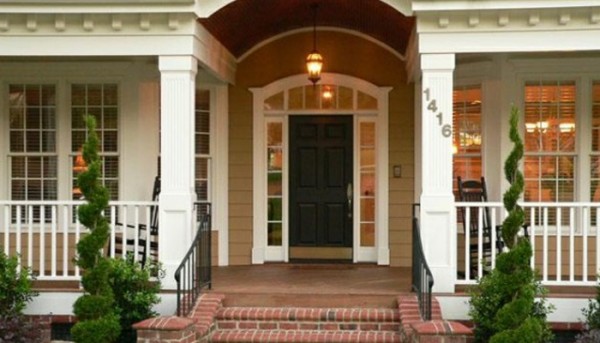 Let Your Main Door Create Great First Impressions
The first impression is the last impression, is a common usage. This holds true for the front door of your home as well, since it is the first thing people look at when they arrive at your doorstep. Guests, invited or uninvited, and passers-by gauge your house from the front door. That is why the front door should not only enhance the security of your home but also be an expression of your individuality.
Here are some types of doors that have been in use over the years and have evolved to cater to changing priorities of homeowners:
Wooden Doors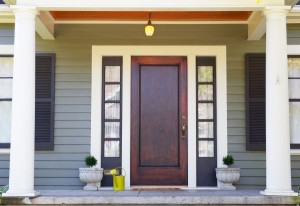 Wooden doors with old-world charm
Wood is the tried and tested material that has been in use since early days. Newer and better materials have since taken over the market.
Though they are getting increasingly rare by the day, wooden doors offer a vintage look to homes and lend an old-world charm. However, maintenance of these doors require regular varnishing, using induction material and interlocking weather stripping, which can be a bit cumbersome.
Steel Doors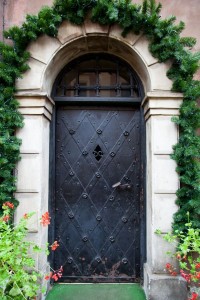 Metal Door with Glass Tiles
Steel is the second oldest material used in making doors, after wood. These have been adapted differently during different architectural styles to give the doors a designer look. These doors are strong and sturdy and help to maintain internal temperature irrespective of external temperature.
A drawback is that these doors can look dull and heavy. Therefore, steel doors are generally paired with glass tiles in or above the door. While this enhances the visual appeal, it compromises the safety and privacy aspects.
Fiberglass Doors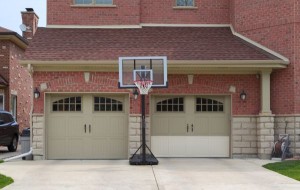 Fiberglass Doors Used in a Garage
Fiberglass doors offer a blend of new age material mixed with wood. These doors share the same vibe as their wooden counterparts. These doors are durable and do not shrink or warp without proper maintenance. However, these can be quite heavy on the pocket.
Designer Doors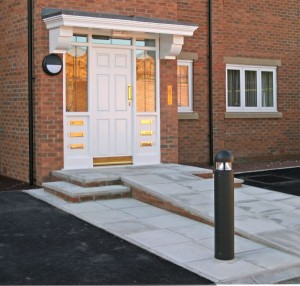 UPVC Door for an Apartment
These doors offer the classic feel that comes with wooden doors but are a lot more durable. They do not warp, contract or even lose their sheen. They have a hard Unplasticized Vinyl Chloride (UPVC) skin, which is foam-filled for high insulation, thereby making it perfect for the tropical climate in India.
Additionally, these composite or designer doors are customizable and are available in wood finish or other colours to match the ambience of the home.
While doors add to the beauty of a house and highlight the personality of the home's inhabitants, they also offer a chance to give something back to the environment. Choosing energy-efficient doors and windows ensure internal temperature is maintained, thereby reducing the use of air-conditioners or heaters. UPVC framed Designer doors offer good insulation and have high energy-efficiency ratings.
Opt for a front door that offers security to your family without compromising on the frontage of your home. Remember, a front door is an expression of the style and personality of the inhabitants. Ensure it reflects the right vibes about you by choosing a door that complements you.

Sahil Ahuja
09 Jan 2019

Good product and awesome team.

Anil Singhal
09 Jan 2019

Happy with the quality and service Team

Subha Singh
09 Jan 2019

I like the service offered by fenesta. Its one of the best upvc window making company. Thanks to fenesta raipur and Mr.prakash

Nimesh Kher 
09 Jan 2019

It's great I have recently renovated my room with fenesta windows really mind blowing.

Rakesh Baweja
09 Jan 2019

Happy with the team and services