The Benefits Of Storm Doors Nov 09, 2015 By &nbspFenesta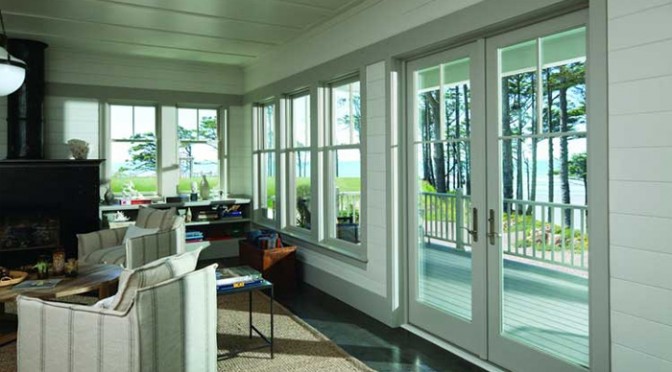 For those who don't know, a storm door is a second door that a home or a property owner installs within the exterior doorframe of a house. Storm doors open and close like regular doors but they are thinner and lighter in weight. In some cases, they might contain glass panels too. In other words, they are one layer of additional uPVC doors for the home. Just like weatherproof windows, there are a number of benefits that storm doors offer and it is worthwhile to consider installing them in your home. Here are some factors to consider:
Additional security: Storm doors offer an extra layer of safety and protection from intruders. In most cases, storm doors have an additional locking mechanism that is separate from the home's primary door. Plus, a good quality storm door might also come with additional features such as bars, break resistant glass or maybe even a three point locking system.
Insulation: Storm doors offer additional insulation for your home by creating an airlock between your main door and the outside of the building. As a result they offer energy efficiency as the heating and cooling system inside the house does not have to work that hard.
Protection from bad weather: This is one of the most tangible benefits of installing a storm door in your home. It keeps out bad weather. Things like rain, ice and snow are prevented from entering the house and it serves as a good barrier for that purpose.
Additional value: Storm doors can be a value added source as they can be used to increase the attractiveness of a property. They are available in a variety of designs and colors and are a great way of enhancing your home's primary door.
Storm doors, while not exactly cheap, are a smart investment as they last a long time. Also, by providing additional protection, they allow for your primary door to last longer by enduring all the elements of wear and tear first hand. Do these advantages sound appealing? Get a storm door for your house today and reap the benefits.

Sahil Ahuja
09 Jan 2019

Good product and awesome team.

Anil Singhal
09 Jan 2019

Happy with the quality and service Team

Subha Singh
09 Jan 2019

I like the service offered by fenesta. Its one of the best upvc window making company. Thanks to fenesta raipur and Mr.prakash

Nimesh Kher 
09 Jan 2019

It's great I have recently renovated my room with fenesta windows really mind blowing.

Rakesh Baweja
09 Jan 2019

Happy with the team and services