Spruce Up Your Front Doors For The Summer Mar 08, 2016 By &nbspFenesta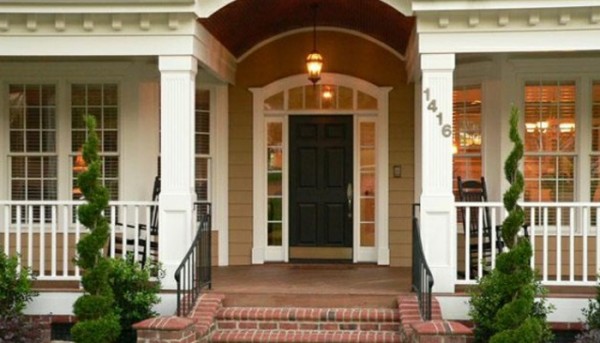 Summer breezes will be blowing through your front doors soon, so put a seasonal touch on your entry. Here are a few simple projects that can change your home doors from basic or boring to suddenly summer. Wreaths brighten up any door, and flowers brighten up any wreath. Find a wood wreath-bamboo or grape vine are popular, sustainable choices-and wrap in artificial flowers with the wire stems. Get your favorite colors and variety of flowers, or work the colors in with your existing door decor. Add seashells, festive ornaments, or (faux) seasonal fruit for a unique touch. Any door looks instantly brighter with a fresh coat of paint. Try a bold color to accent your home's established beauty. If a big paint job seems too much, tape off borders or panels on the uPVC doors and paint them another color to create instant depth. Your door`s accessories are another easy update. Doorknockers, for instance, are affordable and, if you choose, could be swapped out seasonally to suit your style. House numbers are simple enough to install, so give new colors a try here too. What`s near your door is just as important as what's on it. Add a small bench or a few wooden crates and place colorful flowerpots of your favorite annuals on top. (Water them well to keep them perky and visually pleasing! Give those self-watering globes a try to help your plants manage between waterings.) Stack the crates or add other items to create varied heights for visual interest. Finally, switch out your doormat. Find one that suits your decor, or make one by painting a basic bristly, rubber-backed doormat. Stencil on a pattern-stripes, summery polka dots, fun triangles-and use a small paint brush with craft paint to dot in your details.

Sahil Ahuja
09 Jan 2019

Good product and awesome team.

Anil Singhal
09 Jan 2019

Happy with the quality and service Team

Subha Singh
09 Jan 2019

I like the service offered by fenesta. Its one of the best upvc window making company. Thanks to fenesta raipur and Mr.prakash

Nimesh Kher 
09 Jan 2019

It's great I have recently renovated my room with fenesta windows really mind blowing.

Rakesh Baweja
09 Jan 2019

Happy with the team and services