Simple Ways To Transform Your Room For The Festive Season Oct 28, 2016 By &nbspFenesta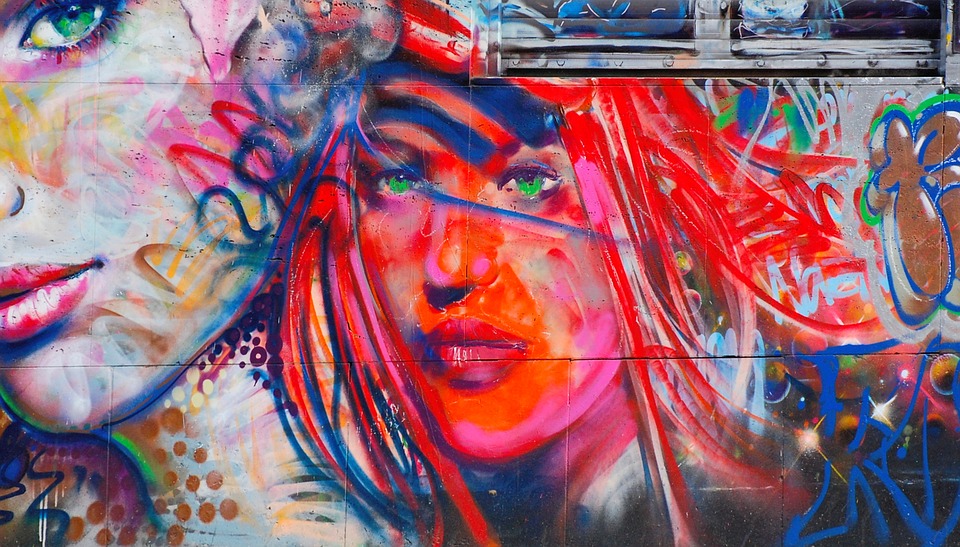 Bringing the festive cheer home in simple ways Diwali is the most colorful, biggest and brightest festival celebrated in India. The festival metaphorically signifies the victory of light over darkness. A lot of families pre-plan their Diwali decor to reflect this. Most of them redo their complete home. However, you could even make small changes to transform your interiors without the hassle of complete renovation. So, if you aren't planning to do a complete home makeover, you can try out these simple DIY tricks: Sea Shell Candles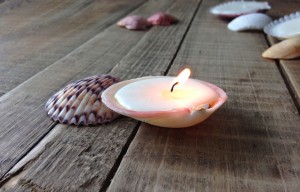 Sea shells make good homes for wicks too!
Make use of your old seashell collection this Diwali to make some candles.
Melt the candle wax in the shell and insert a string in the middle
Keep it aside for drying
Paint the shells with a bright color in contrast to your walls
You can place these beautiful shells on your bedside table or on the uPVC window sill. However, exercise caution in your placement, taking care to keep them away from curtains or any loose flammable materials. Fruity Fun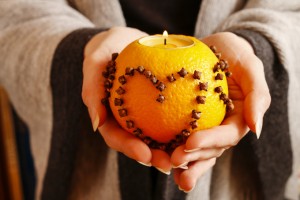 Fruits are delicious decorations!
If you are not a sea person, perhaps fruits will be more to your liking! An easy and fun way to make lamps for your room is to use fruits. Not only will they provide a burst of color, they will also impart a fruity fragrance to your room.
Carve out a small circle on top of an orange
Scoop out enough pulp to fit a small candle in it
Decorate the rind of the orange with nuts or seeds using glue to hold them in place
Place them at the entrance to your door or in the bathroom, for a luxurious ambience and a pleasant-smelling room! Paper Bubble Bulbs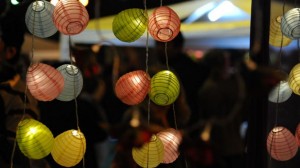 Give another dimension to fairy lights
Lighten up your room with these avant-garde paper bulbs. They are pretty and easy to make in a few steps.
Craft out paper boxes from colorful paper
Once the boxes are ready, begin painting them in the color that suits you best, try to choose vibrant shades which match the occasion
Insert colored lights in them and see them shine bright in your room
You can string them across the wall above your bed, or wrap them around the foot of your bed. You could also hang them on your curtain rods to light up your window & doors. Painted Wall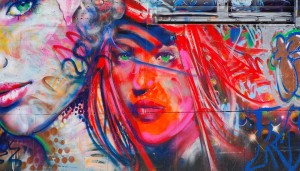 Painted walls lend festivity to the room
Create a rangoli on your wall! Pick an empty wall in your room or one which already has a painting on it. You could pick a color scheme to complement the painting.
Use any natural vegetable-based dyes or colors lying around the house and put them to good use
Mix the colors with water if you want a diluted look for your artwork
Use less water for thicker, bolder strokes
Use materials like cloth or vegetables to create textured prints
Express your artistic self this Diwali; this will create a festive atmosphere the whole year through!

Sahil Ahuja
09 Jan 2019

Good product and awesome team.

Anil Singhal
09 Jan 2019

Happy with the quality and service Team

Subha Singh
09 Jan 2019

I like the service offered by fenesta. Its one of the best upvc window making company. Thanks to fenesta raipur and Mr.prakash

Nimesh Kher 
09 Jan 2019

It's great I have recently renovated my room with fenesta windows really mind blowing.

Rakesh Baweja
09 Jan 2019

Happy with the team and services