Ombres Everywhere! But Is It The Right Choice For Your Entrance Door? Mar 08, 2016 By &nbspFenesta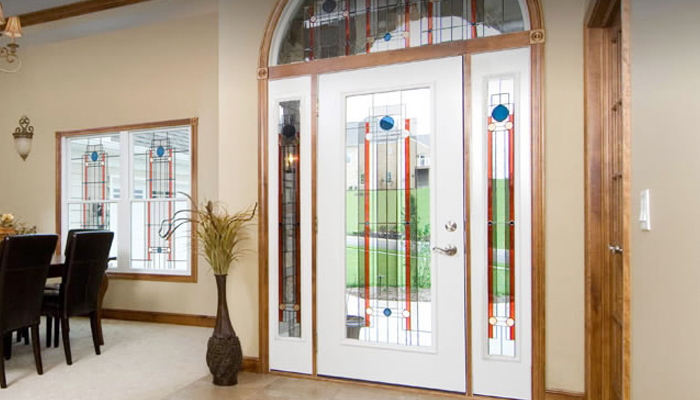 The entrance door of your home or office is the first visual point of contact that can help create an impression. There is nothing to say that the entire design credibility of a property would be judged by the entrance door design, but it is definitely an opportunity that you have to have a positive effect.
When it comes to entrance door designs, the possibilities are limitless. Whether its office doors with windows or the entrance door of your home there is a wide range of options to choose from in the market.
One such design element is the Ombre effect. Typically characterized by shades of similar color tonality being painted against each other (like bold stripes or a dip- effect), the Ombre effect is visually beautiful. The colors used are usually subtle and whether you go from dark to light or light to dark depends upon the kind of look you are after.
The big question however is- Ombres are trendy and fashionable, in fact quite popular too, but are they the right choice for your entrance door?
Ideally, there can be no one answer to that question. It is entirely a matter of choice and what is the look that one is trying to achieve. For the most part, a lot of people prefer solid colors or effects for doors and Ombres might be a more popular choice for interior walls or furniture. But there is nothing to say that if you like the effect, you cannot choose it for your entrance door.
Starting out from a dark and vibrant hue and going to a pale, almost white tone can make the door look dramatic and invite enough attention. A lot will also depend on the choice of color, with grays and browns being good options.
Creating an Ombre effect for your entrance door might just be a way of uplifting the door and making it inviting. To stay on the safe side, definitely work with a neutral palette for your Ombre door.
If that sounds like the look you want to achieve, get to the DIY store today and start work on your project!

Sahil Ahuja
09 Jan 2019

Good product and awesome team.

Anil Singhal
09 Jan 2019

Happy with the quality and service Team

Subha Singh
09 Jan 2019

I like the service offered by fenesta. Its one of the best upvc window making company. Thanks to fenesta raipur and Mr.prakash

Nimesh Kher 
09 Jan 2019

It's great I have recently renovated my room with fenesta windows really mind blowing.

Rakesh Baweja
09 Jan 2019

Happy with the team and services