How to Secure Your Home's Front and Back Doors? Jun 24, 2020 By &nbspFenesta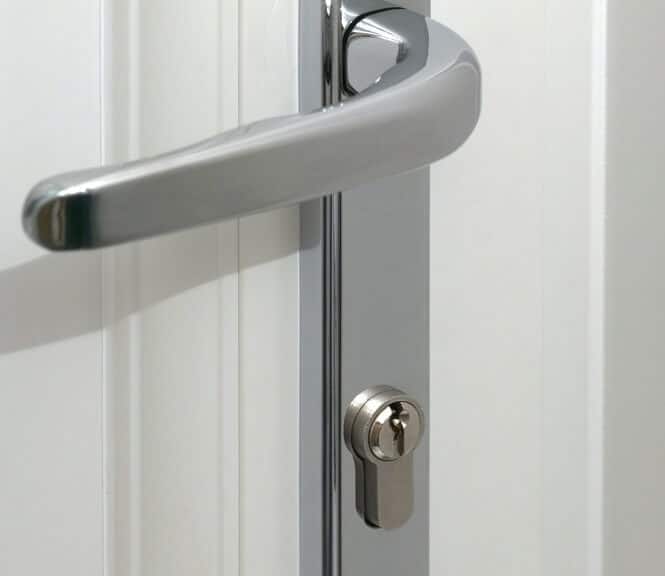 A wise man once said - build an abode where you feel safe and where heaven resides. When it comes to your home, one of the most important aspects that you need to take care of is the security and safety of the home. If you live in a gated society, you will, of course, have the advantages of advanced security facilities, but even then, paying some extra attention to the matter will not go amiss.
However, security is not only limited to preventing burglaries or invasions. When securing your home is spoken of, it may involve a lot of aspects, like keeping the pests away, ensuring that no external noises get in, blocking excessive heat radiation, and much more. To this effect, securing your front and back doors is a task that takes prominence. Keeping that in mind, here are some things that you can do to ensure the same:
Choose the Right Doors
In a bid to give their home an appealing look, people often end up choosing the wrong door options. Since there are many new styles available for doors built for homes in residential areas, you need to be careful about their selection. This is not just limited to the style either; even the measurements have to be accurate. In this regard, you can opt for robust uPVC doors which are custom-made and designed to fit the measurements of your aperture.
uPVC doors are well-suited for both front and back doors. Additionally, uPVC doors are available in different designs as well, including French doors, sliding doors, and casement doors, to name a few. There are soundproof doors available as well which help to keep unwanted external noises at bay. You should, however, avoid installing single-glazed glass doors as your front or back doors as they are easier to break. Always opt for the double-glazed or triple-glazed options.
Look Out for All-Weather Doors
If the material that the door is made of is not durable enough, it can lead to damage. Damage may also occur if the door you have chosen is unable to withstand adverse weather conditions. Though India has tropical weather conditions, they see a lot of unexpected variations as well. This is something that can affect the furniture, cabinetry, and building fixtures, as well as your doors. This holds especially true for the monsoon season when excessive rains create dampness. You may not be able to see it easily but your doors may start getting internal damage. This kind of damage leads to the doors becoming weak which makes it easier to break them open. This is why you should consider installing weatherproof doors, especially at your home's entrances.
Here again, uPVC doors are the best option. They are not only designed to withstand all sorts of weather conditions like storms but also come with strong steel reinforcements, hurricane bars, and multiple seals, allowing you to worry less about the weather outside.
Install Sturdy Deadbolt Locks
Incidentally, this is one of the main things that people end up neglecting. Whether it is the front door or the back door, installing a deadbolt lock is one of the best ways to secure doors for homes in residential areas. However, there are a few things that you must consider while selecting the lock. First of all, ensure that the deadbolt lock extends completely into the opening of the doorjamb which is reinforced with a metal strike plate. Secondly, ensure that the bolt is completely fitted and that no exterior screws are exposed. You can opt for an exit-only deadbolt for your front and back doors. These locks can be locked and unlocked from the inside and don't have exterior keyholes either, which makes them safer.
Reinforce Your Existing Locks
If you already have locks installed, make sure to reinforce them to make your home safer and more secure. You can consider using cylinder guards around the locks as they will help prevent thieves or criminals from wrenching or prying the locks loose. Alternatively, you can install or reinforce the solid metal strike plates as they make it harder for someone to kick open the doors.
Install Peepholes and Chain Locks
Another step you can take to ensure safety is to have peepholes installed in your front as well as back doors. This gives you the upper hand of being able to see who is at the door before you open it. Always prefer a wide-angle peephole as it will let you see if the person is alone or if there are more people with him/her. However, there are a few door styles like the French doors that will not require peepholes. Installing a strong and sturdy chain lock for your door is also a good option. This will let you talk to an unknown person standing outside without having to open the door completely.
In addition to these, you should make sure that your doors are air-tight, allow for proper rainwater seepage, and are low-maintenance in nature so that you can take a break from all the worry.

Sahil Ahuja
09 Jan 2019

Good product and awesome team.

Anil Singhal
09 Jan 2019

Happy with the quality and service Team

Subha Singh
09 Jan 2019

I like the service offered by fenesta. Its one of the best upvc window making company. Thanks to fenesta raipur and Mr.prakash

Nimesh Kher 
09 Jan 2019

It's great I have recently renovated my room with fenesta windows really mind blowing.

Rakesh Baweja
09 Jan 2019

Happy with the team and services