How to Choose the Best uPVC Window Manufacturer Mar 12, 2021 By &nbspFenesta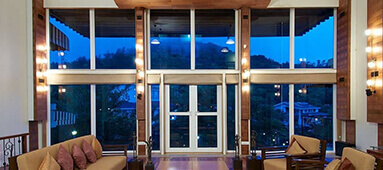 Building fixtures like doors and windows are among the most significant elements of your home's architecture. Stylish and functional windows contribute to not only making your home aesthetically appealing; they are easy to operate as well. Ergonomically designed building fixtures make the spaces livelier and more gracious. Over the years, people have had the flexibility to choose designs from a plethora of options based on their preferences. In that respect, uPVC windows have emerged as a preferred option in recent years. Fenesta, one of the top uPVC window manufacturers in India, has evangelized uPVC windows in the country.
Now, while choosing the best uPVC windows in India, there are a lot of factors that should be taken into consideration. Here is a simple and handy guide to help you out: -
Table of Contents
Check For The Quality and Range of Products
Check Out The Features of The Windows
Check If The Manufacturer Offers Customisation
Installation of The Window
After-Sales Service and Other Factors
Tip 1: Check for the Quality and Range of Products
One of the foremost things that you need to consider is the range of products that the manufacturer offers – pleasing aesthetics and high quality should be prioritized upon. Also see if they have different categories of window styles so that you have the flexibility to choose according to your preference i.e. the best uPVC windows like bay windows, sliding windows, tilt and turn windows, casement windows, and so on, from which you can select. In addition to this, take the operation of the windows into consideration. Make sure that they are functional and easy to use.
Tip 2: Check Out the Features of the Windows
This is the second most crucial factor while choosing a uPVC window manufacturer. The windows that the manufacturer offers should be equipped with the best-in-class features that make the uPVC window installation completely worth it for your home. The windows should be marked by strong steel reinforcements, multiple locking points, double insulation, and multiple seals in terms of safety features. In addition to this, other features that you can look out for include blockage against rainwater seepage, protection against storms, good sound insulation, and high energy efficiency.
Tip 3: Check If the Manufacturer Offers Customisation
Windows play a major role in your residential property's overall facade. The more beautiful your windows are, the more gracious your home looks, both on the inside and the outside. That is why it is important that you choose uPVC window suppliers who offer the option of customization. This will not only help you get the window design that you have always wanted but also ensure that the windows are equipped with enhanced safety features like triple-glazed glass, hurricane bars, and so on. In addition to this, the customization option will also allow you to select the color, mesh, trims, handles, and so on as per your preference. uPVC windows are a one-time investment, thanks to their long-lasting durability so make sure that you choose the best.
Tip 4: Installation of the Window
Choose a uPVC window manufacturer that also offers installation for the windows at your property. Make sure that the professionals employed by the manufacturer are well-trained and have good experience in carrying out window installations. In addition to this, the team visiting your house for the installation of the windows should also have proper knowledge about handling window frames and should carry out the entire process safely. It is extremely important for you to check the safety standards that the installation team follows. Also, make sure you browse through the manufacturer reviews online regarding these services before you make a decision.
Tip 5: After-Sales Service and Other Factors
Lastly, you should know that the best uPVC window provider will also offer you good after-sales services. It is quite important that you buy your windows from manufacturers that not only take care of their customers during the sales process but also offer excellent after-sales services, which includes addressing any issues or queries by the customer, attending to installation complaints (if any), and so on.
Irrespective of whether you are looking for small uPVC windows like the casement style or for more complex designs like tilt and turn windows, choosing the best window manufacturer is of the utmost importance.

Sahil Ahuja
09 Jan 2019

Good product and awesome team.

Anil Singhal
09 Jan 2019

Happy with the quality and service Team

Subha Singh
09 Jan 2019

I like the service offered by fenesta. Its one of the best upvc window making company. Thanks to fenesta raipur and Mr.prakash

Nimesh Kher 
09 Jan 2019

It's great I have recently renovated my room with fenesta windows really mind blowing.

Rakesh Baweja
09 Jan 2019

Happy with the team and services