How Are Aluminium Windows Installed? Jun 30, 2020 By &nbspFenesta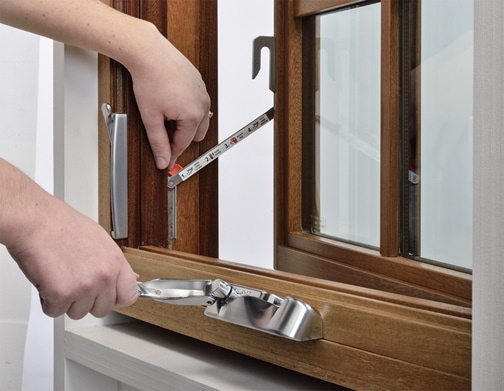 Having gained a lot of popularity in recent times, aluminium windows are a sophisticated, contemporary, and robust addition for any façade. These windows can withstand a variety of climatic changes and are among the most sought-after options available in the market today. Delivering an ultra-modern style statement with their slimmer frames and widths, aluminium windows are definitely worth their price.
You can opt for a traditional aluminium casement window or you could choose the modern tilt and turn design; aluminium windows are available in a variety of styles and can be used to enhance the aesthetics of any space.
Why Choose Aluminium Windows?
Whether you select aluminium sliding windows or opt for combination windows, there is no doubting the fact that they'll enhance the aesthetic appeal of any space. They are available in a range of designs and offer numerous benefits like energy efficiency and protection from the elements outside. They are also very durable and require very little in terms of maintenance efforts. You need to be careful, however, when it comes to choosing a manufacturer for your aluminium window frames. Make sure that the company you choose is well-reputed and offers premium quality products that are tested for ultraviolet resistance and are corrosion-, rust-, and decay-resistant.
Because of their low maintenance requirements and ability to keep the elements away from the home, aluminium window frames are well-suited for installation in bathrooms, balconies, and bedrooms as well.
The Importance of Proper Window Installation
Your job does not end with finding the right design and style of aluminium windows to buy. Getting the windows installed properly is of the utmost importance. If a window is improperly installed, it would leave gaps between the aperture and the frame. Through these gaps, dust, noise, and other pollutants will be able to get into your home, stalling the very advantages for which you purchased the new windows. You need to ensure that the manufacturer you choose offers installation as well and that their installation procedures leave nothing to chance, offering you peace for years and years to come.
The Importance of Site Survey Before Installation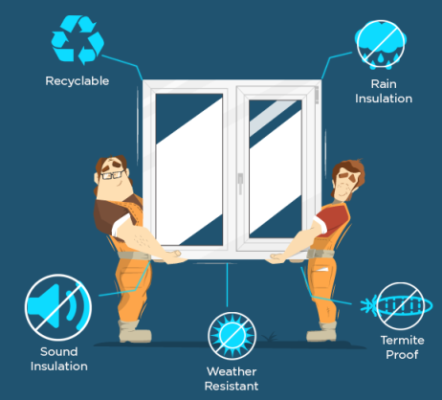 A site survey is a feasibility check which is done to ensure that the installation itself is a smooth process. The process also includes making arrangements for the shifting and storage of the windows. In a site survey, professionals from the manufacturer you have chosen would visit the site where the windows are to be installed and take proper and precise measurements of each aperture. Then, these measurements would be used to manufacture custom-made windows that perfectly fit the aperture. When you choose a manufacturer that can fabricate aluminium window frames with precise dimensions, you can rest assured about your new windows being a perfect match.
Pre-Installation: Ensuring an Aperture is Ready for Installation
For accurate measurements to be taken, an aperture needs to be 'ready'. This means that it should satisfy the following conditions:
The complete plastering should have been completed The tiles or stones (if any) of the windowsill should have been laid down The first coat of paint should be done If the aluminium windows will have a POP finish, the POP should have been applied If the window starts from the floor level, the flooring should be done
If you plan to make changes to the existing aperture, make sure it is done before the site survey.
Once a survey has been done, the surveyor will record precise measurements in a document that will be signed by you as well as the surveyor. You will be given a copy of the document which mentions the delivery timelines. These measurements will be sent to the manufacturer for fabricating the windows.
The Installation
Once your aluminium windows have been manufactured, it is now time for installation. This is a process which will be done by hand and usually involves two-three people, depending on the windows that are being installed. It begins with the window being lifted and fitted into position in the aperture. Before it is drilled into position, it is tested using a spirit level to ensure that it is completely level – here, adjustments can be made if required. This is when the installation team will begin drilling the windows into place. Once the frame is in position and drilled in securely, the glass can be inserted. This is also the time when any grill or mesh that you have chosen, or rain gutters, or other extra fittings can be attached to the window.
If you have chosen your window manufacturer carefully, you would not have to worry about the installation process. Furthermore, to ensure customer convenience, the installers from the company take care of the entire process in a manner that does not affect your daily schedule. How about that?!

Sahil Ahuja
09 Jan 2019

Good product and awesome team.

Anil Singhal
09 Jan 2019

Happy with the quality and service Team

Subha Singh
09 Jan 2019

I like the service offered by fenesta. Its one of the best upvc window making company. Thanks to fenesta raipur and Mr.prakash

Nimesh Kher 
09 Jan 2019

It's great I have recently renovated my room with fenesta windows really mind blowing.

Rakesh Baweja
09 Jan 2019

Happy with the team and services