Design Ideas: How to Choose Colors You Won`t Regret Jan 10, 2016 By &nbspFenesta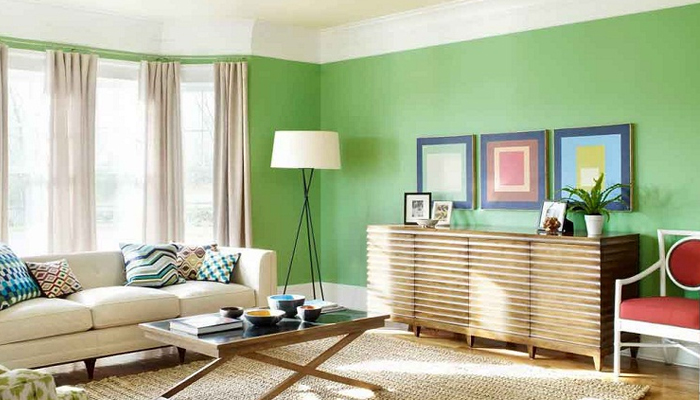 Colors constitute a very important part of a room and can add value or spoil its look depending upon how they are used. Whether you are reworking on your living room interior design or the overall house interior design, make sure you use the right colors on your walls. Here are some tips, so that you can pick a color that you will not regret later:
When you step inside a store to select a paint, do not randomly start picking the color of your choice without visualizing how it will look in your room. You might love green as a color, but if it does not go with your interiors, drapery, rugs, furniture, etc, then it is not the color you should go for. So, first imagine your home and then select a color that will compliment the interiors.
Try and get a color that gives your home an expansive feel. Dark colors usually make the house look a little compact. So, if you have a small room, ideally go for a subtle paint, preferably, whites or off whites, with maybe just one wall of a bright color to add contrast.
Always pick colors on the basis of furniture that you already have and not what you will get one day because till the time you do not , you would have to bare with the color that does not suit your current interiors.
A color might not look too bright on a swatch, but paint often looks much brighter when put on an entire wall. So, keep that in mind while choosing a shade.
Keep these tips in mind and choose a color that will brighten up your home!

Sahil Ahuja
09 Jan 2019

Good product and awesome team.

Anil Singhal
09 Jan 2019

Happy with the quality and service Team

Subha Singh
09 Jan 2019

I like the service offered by fenesta. Its one of the best upvc window making company. Thanks to fenesta raipur and Mr.prakash

Nimesh Kher 
09 Jan 2019

It's great I have recently renovated my room with fenesta windows really mind blowing.

Rakesh Baweja
09 Jan 2019

Happy with the team and services