Customized Windows for Your Reading Nook Mar 08, 2016 By &nbspFenesta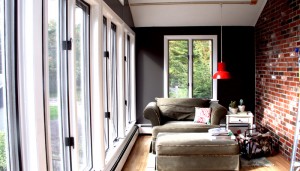 A reading nook is often cherished in the home as a place to get cozy and lose yourself in a book. Some of the beauty and attractiveness of these special places comes from the windows you enjoy while you're there. Whether you have a window seat nested in with your bay window or just a comfy chair in a quiet corner of the house, your reading nook should have a few of your favorite things. Certainly a great view and ample lighting are among them! Windows don't have to be basic rectangular fixtures, though. Be creative and pick the best windows for your needs. Think about what shape or arrangement of windows might create the best atmosphere for your reading area. Also consider temperature variations that occur near windows' when you're sitting immediately next to a window, extreme temperatures outside may be felt through the glass. Also think about privacy and noise. If your reading area faces into a busy street, even a few floors up the noise can still be distracting. Some different window options may be able to help correct these problems and provide the best experience in your home. For example, a few smaller, circular, port hole, windows would be appropriate for an area requiring some privacy and noise protection. In a home with no noise concerns, large casement windows that can open to let in a light breeze might be more attractive in a reading nook. Nevertheless, in all cases it will be important to consider the window dressings to control energy efficiency, especially with larger windows.

Sahil Ahuja
09 Jan 2019

Good product and awesome team.

Anil Singhal
09 Jan 2019

Happy with the quality and service Team

Subha Singh
09 Jan 2019

I like the service offered by fenesta. Its one of the best upvc window making company. Thanks to fenesta raipur and Mr.prakash

Nimesh Kher 
09 Jan 2019

It's great I have recently renovated my room with fenesta windows really mind blowing.

Rakesh Baweja
09 Jan 2019

Happy with the team and services