Creating Seamless Personal Spaces That Blend With Nature Mar 07, 2016 By &nbspFenesta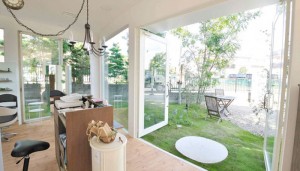 A nature inspired home can be stuff that dreams are made of. After all who wouldn't like a little bit of greenery especially in today's times where everywhere ones looks, it's all about structures and concrete spaces. For nature lovers especially, the challenge is to find that green space amidst city living that can be enjoyed and valued.
Given the fact that city living has become all about apartments and restricted spaces the task of achieving personal spaces in the home that offer a glimpse of nature seems a difficult task. But, it does not have to be that way. With a little bit of smart thinking and innovative ideas, indoor and outdoor transitions can be created and that too very effectively.
One of the best ways to do this is to make the use of French doors. Installing French doors in the living room area that attaches itself to a porch or a balcony is the great way to bring a little bit of nature into ones' home. In fact, folding French doors are an even better deal because when they are folded away the indoor and the outdoor space blends with each other to create one big open expanse.
If one has a patio or a garden attached to the living room, the greenery is easier to enjoy but even if it's a balcony that attaches itself to a room, by adding some potted plants, a dash of nature can be stolen.
While living close to nature is a dream come true for nature lovers, even people who are not enthusiasts wouldn't mind a bit of green love thrown into their lives via their homes. For this reason, whatever effort is put in towards achieving the same is worth every bit.
Want to create a great indoor/outdoor space in your home? Use a French door and enjoy the fruits of your labor today!

Sahil Ahuja
09 Jan 2019

Good product and awesome team.

Anil Singhal
09 Jan 2019

Happy with the quality and service Team

Subha Singh
09 Jan 2019

I like the service offered by fenesta. Its one of the best upvc window making company. Thanks to fenesta raipur and Mr.prakash

Nimesh Kher 
09 Jan 2019

It's great I have recently renovated my room with fenesta windows really mind blowing.

Rakesh Baweja
09 Jan 2019

Happy with the team and services