Best Gate Ideas for your Garden Mar 10, 2016 By &nbspFenesta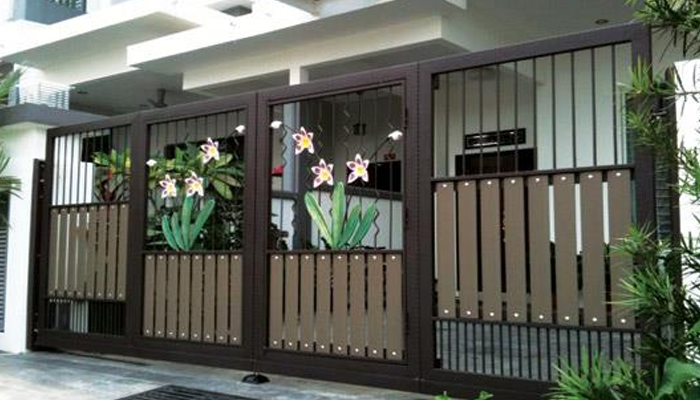 Are you looking to remodel your entryway? Then there is nothing better than a beautiful and functional garden gate. A well-designed garden gate establishes and emphasizes the garden`s style that is welcoming and simple or formal and grand. A well-designed gate must compliment the styles of other elements in the settings including architecture and fencing of the house. Also at the same time must be sturdy enough to stand rigorous wear and tear. Here are some door design ideas for the garden:
Build a boundary: If you want to keep it simple and elegant then there is nothing better than simple wired gates decorated with roses. It creates a pretty entrance and also offers a clear barrier without hampering the view.
Adorn it with flowers: There can be nothing better than a flower-laced entrance gate. Make a well-designed wrought iron gate design and adorn it with climbing roses, foxgloves and verbena to create an enchanting ambiance.
Add a little mystery: It is human basic nature to peep inside the gate especially if it`s been left partially open. There`s nothing like adding a touch of mystery to generate curiosity and interest with passersby. If you`re going to invest in a large wrought iron, work with a designer to see how you can use it to frame a picture perfect view of your home.
If you are little creative you can even play with colors. Color the wooden arbor in playful hues and even use it throughout the yard. Or else you can try and give your garden gate a rustic feel by using rough wood. And as always, we`d love to see how you`ve been able to create a strong emphasis for your entrance. Don`t forget to let us know!

Sahil Ahuja
09 Jan 2019

Good product and awesome team.

Anil Singhal
09 Jan 2019

Happy with the quality and service Team

Subha Singh
09 Jan 2019

I like the service offered by fenesta. Its one of the best upvc window making company. Thanks to fenesta raipur and Mr.prakash

Nimesh Kher 
09 Jan 2019

It's great I have recently renovated my room with fenesta windows really mind blowing.

Rakesh Baweja
09 Jan 2019

Happy with the team and services