Designing Ideas - Limited furniture for a minimalist look Mar 10, 2016 By &nbspFenesta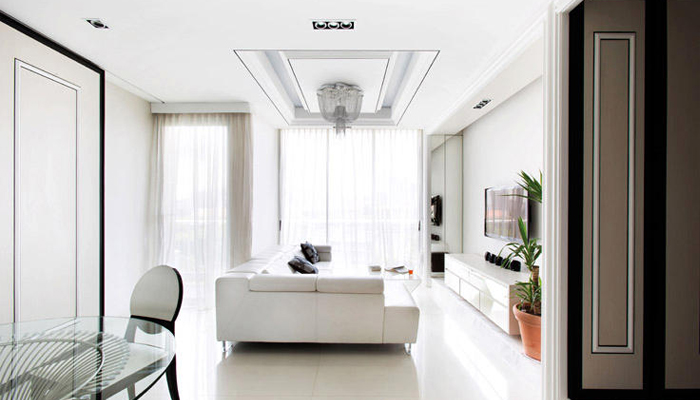 Every once in a while, it`s good to take stock of the things that have accumulated at home over a whole decade and clean them out. Your living space should be the perfect mix of relaxing and comfortable, and if you`re tired of the chaos of clutter and heavy furniture, then you know it`s time for you to begin an overhaul. Don`t worry, you don`t have to change everything overnight or complicate things to make them work. Besides, complicating things to make them simpler is just more irony than we can handle! To get started on your minimalist look, consider the following:
Color: White is an ideal pick for a minimalistic appearance as it gives the room a light appearance, and with minimalism, it`s best to work in a monochromatic palette. A neutral color palette of gray, wheat or beige will also do the trick because neutrals give you the freedom to play with furniture colors like blue or black.
Furniture: Don`t clutter the room with too much or too-heavy furniture. A plain white sofa is a better pick in comparison to bold designs and patterns. To decorate the living room, a sectional sofa, coffee table and side table are just enough to do justice. For any other room, try multi-purpose furniture pieces to save on space, i.e. a bureau that can also function as a table top.
Minimal accessories: Remember, less is more. Fewer things and lighter furniture material in your room can actually give a relaxed feeling as you walk into the room. A rattan chest can be used as a coffee table with plain basket tray to add texture to the neutral palette in the living room. Additionally, don`t throw on too many cushions on the sofa or bed to keep things neat. A couple of them on both the sides will do a better job.
Keeping your decor simple and easy to maneuver is a lot better to create a light and airy feel, especially for smaller spaces. Give these ideas a try and don`t forget to let us know what works for you.

Sahil Ahuja
09 Jan 2019

Good product and awesome team.

Anil Singhal
09 Jan 2019

Happy with the quality and service Team

Subha Singh
09 Jan 2019

I like the service offered by fenesta. Its one of the best upvc window making company. Thanks to fenesta raipur and Mr.prakash

Nimesh Kher 
09 Jan 2019

It's great I have recently renovated my room with fenesta windows really mind blowing.

Rakesh Baweja
09 Jan 2019

Happy with the team and services