5 Tips to Clean Your Home After the Festival Season Mar 07, 2016 By &nbspFenesta
Getting back in order after the celebrations Snippets of paper, ribbon, tissue paper, organza, pieces of wire, sequins, price tags, pieces of mangled tape and what-not mess up our house after a festive season. To maintain a clean, organized house during and after a festival, prepare a cleaning checklist that will help you. Whether you are hosting a family meal, or receiving friends and neighbors, stay in control of your housework this festive season. Below mentioned are few tips to tackle each room individually for manageable chunks: Living room
Take down the decorations and strings of lights and gently clean them before storing them away for the next celebration.
Vacuum or sweep all over, including the curtains in common areas, bedroom, and kitchen and then open the doors & windows to air the rooms. This will instantly freshen up the rooms and make them more appealing.
Regularly empty the rubbish bins to keep your surroundings odor-free and hygienic.
Do not leave things scattered around the house; put everything back in its place.
Kids' room
Ensure that sweets or food items are cleaned up immediately. These may be overlooked during other activities in the festive season.
Encourage kids to keep their clothes in drawers and wardrobes, rather than leaving them on the floor.
Keep all the toys and similar items like dolls and cars together in one place. This also makes it easy to find them whenever needed. Hanging pockets and plastic boxes are best to store the toys.
Kitchen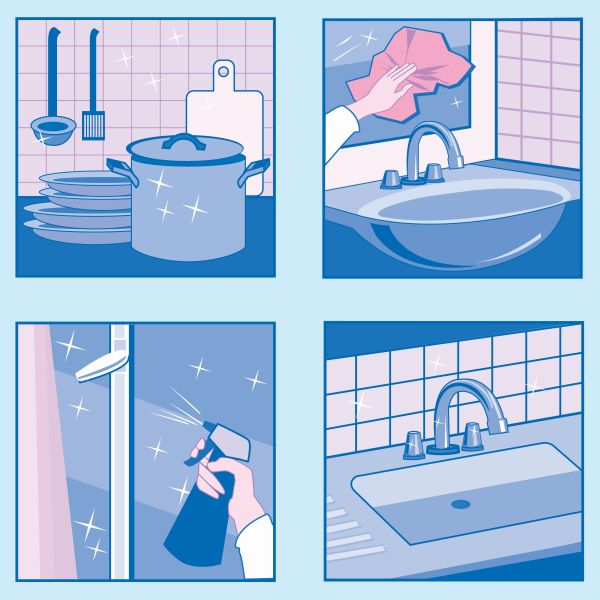 Measures to clean your kitchen
Toss the foodstuff that is beyond its use-by-date from the refrigerator and pantry.
Organize the storage shelves properly, and check and replace any mislaid items.
Transfer leftover food or sweets from open packets to plastic containers to retain their freshness.
Wash, dry, and store away the dishes, cutlery and glassware used during the festive season.
Laundry and Toilets
Empty the washing hamper and do the laundry. Separate silks and other heavy material worn during celebrations from daily wear. Also, check for stains or tears that may have been caused during the festivities.
Check, clean and disinfect toilets.
Balcony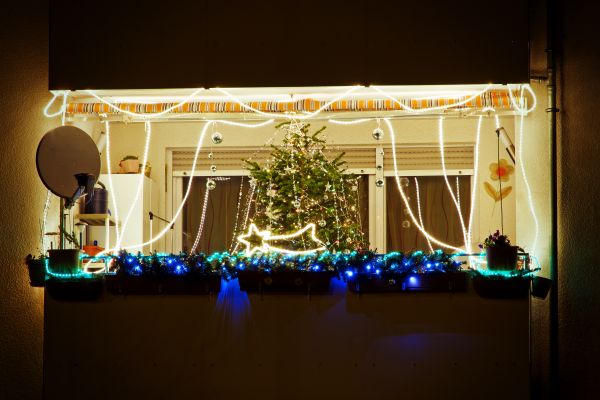 UPVC balcony windows are easier to clean and stain-resistant
Remove the festival lights and other decorations and clean them before putting them away for the next season.
Check for stains on the tiles and balcony grills; if there are any, use a concentrated detergent and astiff brush to scrub out the stain from grill.
Here are a few general tips to follow during the festivities to help you reduce your cleaning efforts later:
Use disposable (ideally recyclable) plates, glasses and napkins if you have guests over, for convenience and tidiness.
Prepare a meal plan for the next week to use up heap of leftovers.
Gather all the gifts you receive and store them on the attic or loft.
Wipe or mop food stains, oil spills, etc. immediately, especially if they are on rugs, wooden tables or furniture.
Getting back to routine after the festivities can be a task and setting the home back in order is a part of it. However, planning and following certain simple tips can reduce the hassle. Also, cleaning up after the festivities can be a great way to preoccupy the mind and to avoid moping over the empty feeling a festival often leaves behind.

Sahil Ahuja
09 Jan 2019

Good product and awesome team.

Anil Singhal
09 Jan 2019

Happy with the quality and service Team

Subha Singh
09 Jan 2019

I like the service offered by fenesta. Its one of the best upvc window making company. Thanks to fenesta raipur and Mr.prakash

Nimesh Kher 
09 Jan 2019

It's great I have recently renovated my room with fenesta windows really mind blowing.

Rakesh Baweja
09 Jan 2019

Happy with the team and services