3 Hacks to Choose a Perfect Window for Your Home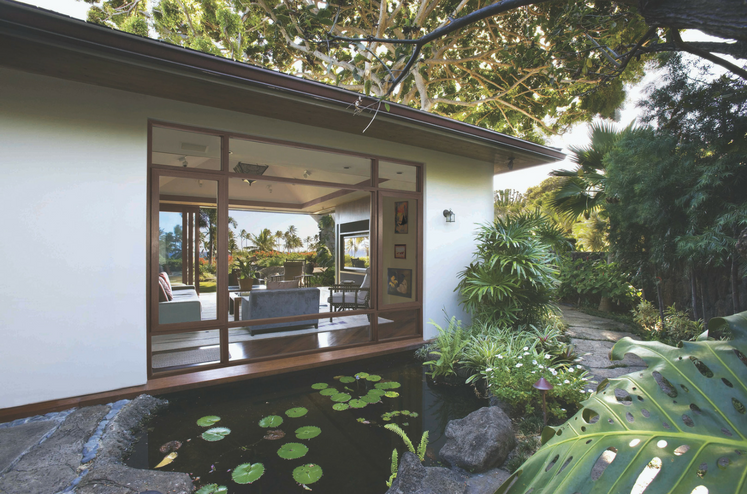 What kind of a window should I buy for my house? - A question that arises in the mind of all those, who are either making a new home or renovating it. Here's, the answer to all your questions related to shopping for a perfect window.
We all know the importance of windows in our homes. They play a vital role in ventilation and providing sunlight into our homes naturally. But there is more to it, windows and doors are an extension of our beautiful home. Entrance door and the windows are the first impression for our guests, and it lasts forever.
Consider these hacks before investing in windows:
1. Placement of Windows in Rooms – Every room needs light, else it looks dark and dingy. Ideal space for window in the room will lit up the whole room. For e.g. kids study room, library, kitchen, bathrooms, bedrooms and living room should have enough sunlight to keep the home warm ,fresh and germ free
Architectural design will play an extremely important role. Right positioning of the window in a room will solve the purpose and make the room picture perfect.
2. Style of windows – Every room will have a different requirement of window style. So choosing the right window for each room should be well thought through before you go shopping.
Sharing few style types of windows, its benefits with recommendation, which you should consider, while selecting windows: -
1. Sliding Window: Features two (or more) horizontal sashes fitted with rollers at the bottom for swift sideways movement on tracks. (as shown in the picture below).They are easier and faster to operate, providing air circulation and panoramic views. A popular choice for contemporary styled homes sliders bring finesse to the room while satisfying all its fenestration requirements
Closer look on the sliding windows
Benefit:
Improved ventilation
More sunlight
Optimized space usage, as they don't open inwards or outwards. It's a best option for small homes & apartments.
Makes the room elegant, stylish and bigger
Recommended for: Bedrooms, balconies, large openings
3. Casement Windows: It gives the maximum unobstructed view of outside. It features a sash that is hinged from the side on an outer frame and can open inwards or outwards, to the left or right, allowing maximum flow of air into the room. Extremely energy efficient when closed, this casement window comes in varied designs like side hung, top hung etc.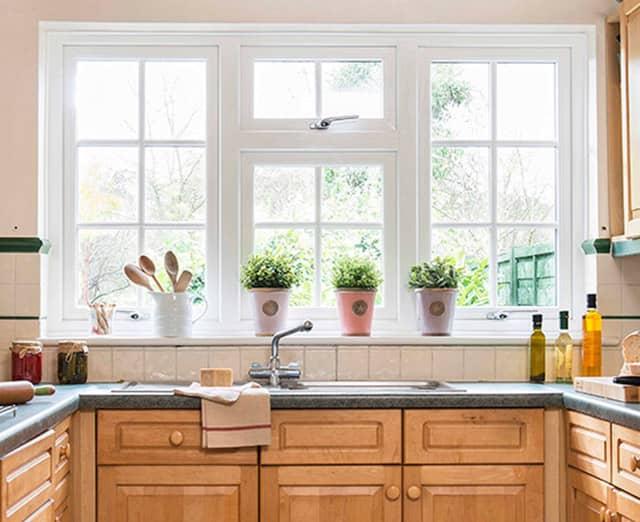 Image Credit: Everest.co.uk
Benefits:
Superior noise insulation and highly energy efficient
Keeps the noise, dust and pollution out
Protects against rainwater seepage
It can be customized as per the size and design preference
Recommended for: Kitchen, Bedroom, study room, Bathrooms
4. Tilt and Turn Windows: This has been a popular choice in many countries. The popularity has increased due to the fact that they are safe, easy and smooth. It's ideally suited for modern homes because the versatility combines with style.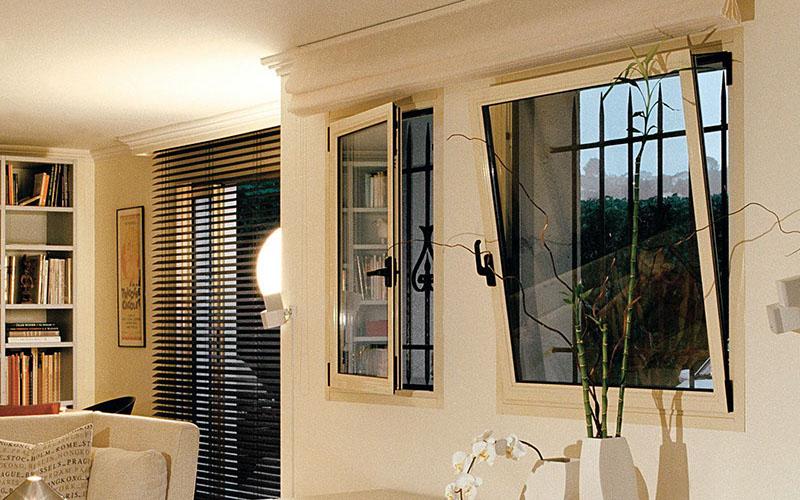 Image Credit: acahomes.com
Benefits:
Contemporary and stylish
Brings maximum sunlight, insulation
Energy saving designs
Weather resistant; Not prone to rust, termite, corrosion or fading
Recommended for: Ideal for small spaces, bedroom, Washroom, Living room
Combination Window: Is an aesthetically designed window integrated with a combination-sliding, casement and fixed window. It enhances the look of your room as it can be designed as per your need. It creates state of the art architectural feature in the home space.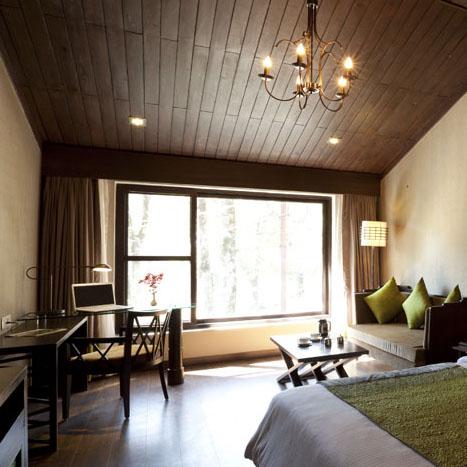 Benefits:
Greater freedom with shape, style or size
Designed to maximize natural lighting and energy efficiency
Excellent aesthetics and long last durability
Air-tight seals to keep out noise, dust, heat and pollution
Recommended for: High-rise apartments, bedrooms and office space
5. Villa Windows: It's a rare combination of 4 S's weaved into one – Style, substance, sealing and security. Use the villa window description on our website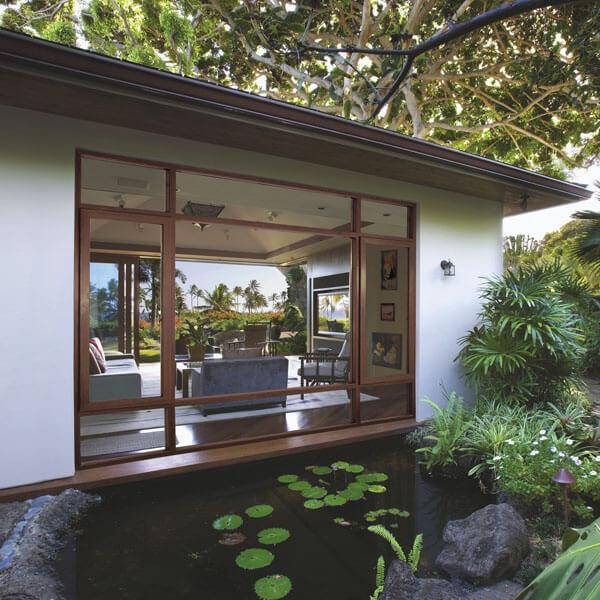 Benefits:
Energy efficient
Protects from insects, mosquitoes and theft
Dual seals and multi chambered design reduces heat loss and noise
Multi point locking system for total security
Low maintenance
Recommended for: High rise apartments, bedrooms and living rooms
6. Bay Window: It's the most apt choice to create a perfect private little corner in your home. It is a combination of windows, which are projected outward from the main wall forming a bay in the room. It's either square or polygonal.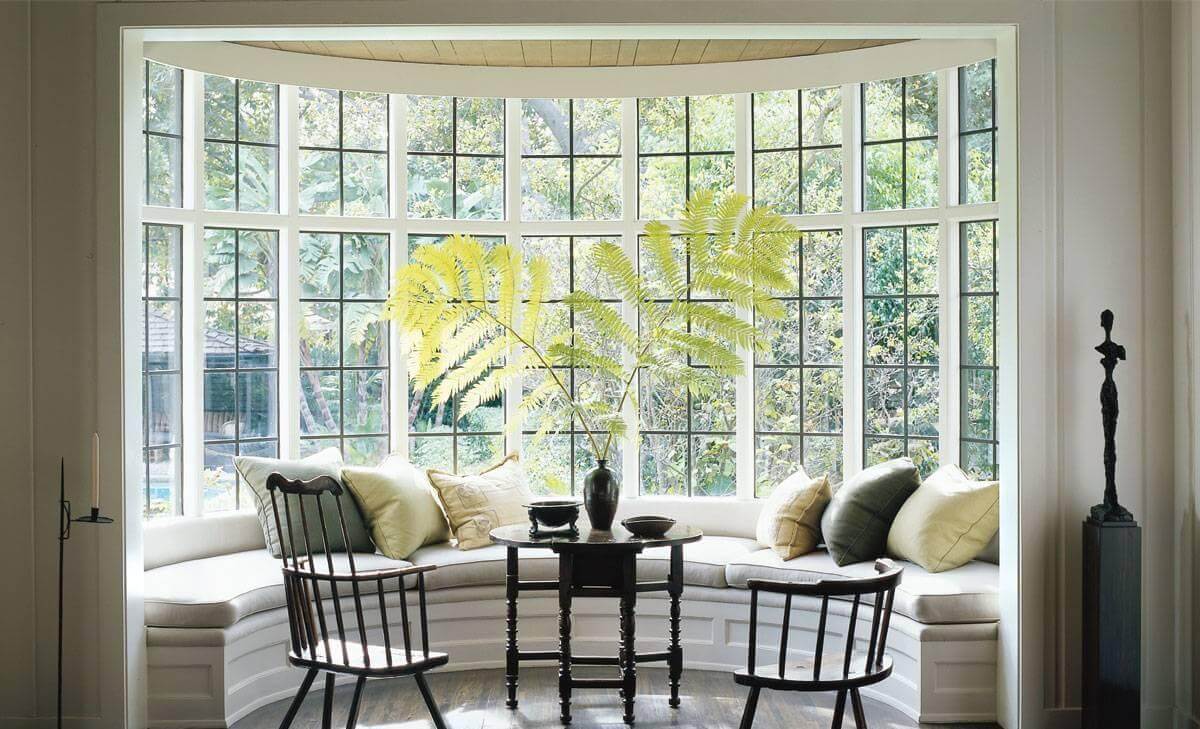 Image Credit: ceveta.com
Benefits:
Room looks spacious and graceful
Dual sealing keeps out rain, dust and pollution
Durable
Recommended for: Small spaces, Bedrooms, Living room
7. Fixed Window: They are non-opening windows to allow light in the room. Below images show where to use fixed windows in the home.
Living area

Gallery /Staircase
Benefit:
Can be customized
Energy efficient
Keeps noise, heat, dust and pollution out
8. Recommended for: Any kind of a room
Glass to Glass Window: They are fixed window units where the glass panes meet at 90 degree .Its contemporary and stylish offering seamless view with maximum sunlight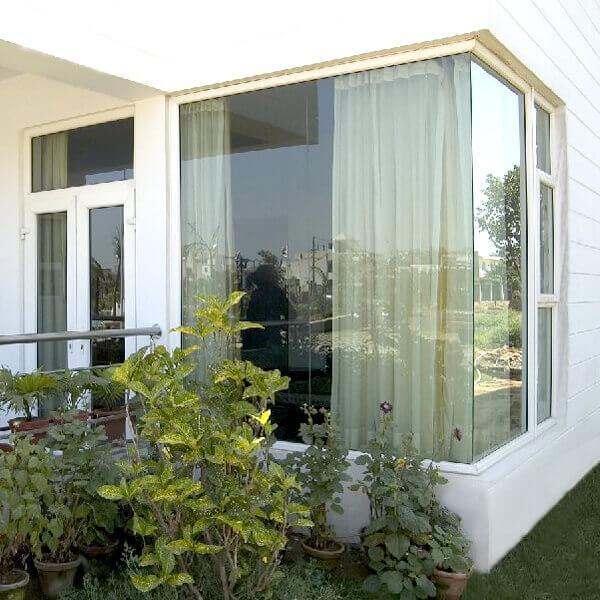 Benefits:
Maximum sunlight
Panoramic view
Creates space and openness in the room
Adds elegance
Creates attraction from outside and inside
Recommended for: Corner rooms
3. Budget and Brand: Plan your budget before investing in windows and doors. Good quality will come at a price, so don't compromise as it's a onetime investment for the safety and security of your home.
Checklist of must haves to choose a perfect window for your home:
a) Features and Benefits:
Sound and pollution Insulation- Double glazed laminated glass, Fusion welded joints and double sealing features.
Prevent dust buildup – Double sealing, Multi-lock points, Silicon sealant features
Block rainwater seepage – Sill arrangement system, Gradient slope, Rain track system features should be present
Weather resistant – hot and cold
Low maintenance – Frames should be made of steel, formulation of UPVC
Saves energy – No air leakage, Radiation and conduction features
Elegant looks
b) Designs: Should have many options and designs to choose from. Don't compromise on the design layout.
c) Colors and finish: The décor of your home should match with the windows and door; else it will look out of place.
d) Quality of glass and glass options: Have the option to choose from: clear glass, frosted glass, tinted glass, reflective glass or the laminated one. Right choice of glass can impact the performance of doors and windows in many ways: security and safety, energy savings, view and privacy.
e) Service and Execution: What makes a brand is an after service and its execution, so look for these qualities before investing:
Distribution network
Customer care support – 365 days
End to end service hassle free
Replacement structure
Warranty
Professional installation
Customization
While you would be looking for many options in windows and the qualities that have been suggested, imagine if you find all the above-mentioned qualities in one brand – Fenesta Windows.
Fenesta offers great service and execution, approximately 700 different designs to choose from, various design patterns as per customers need, pocket friendly, what more can you ask for. Secure your home with elegance and style with Fenesta windows as it makes the perfect window, and therefore a must for every home.

Sahil Ahuja
09 Jan 2019

Good product and awesome team.

Anil Singhal
09 Jan 2019

Happy with the quality and service Team

Subha Singh
09 Jan 2019

I like the service offered by fenesta. Its one of the best upvc window making company. Thanks to fenesta raipur and Mr.prakash

Nimesh Kher 
09 Jan 2019

It's great I have recently renovated my room with fenesta windows really mind blowing.

Rakesh Baweja
09 Jan 2019

Happy with the team and services