Smart Cities Start With Smart Buildings Sep 05, 2016 By &nbspFenesta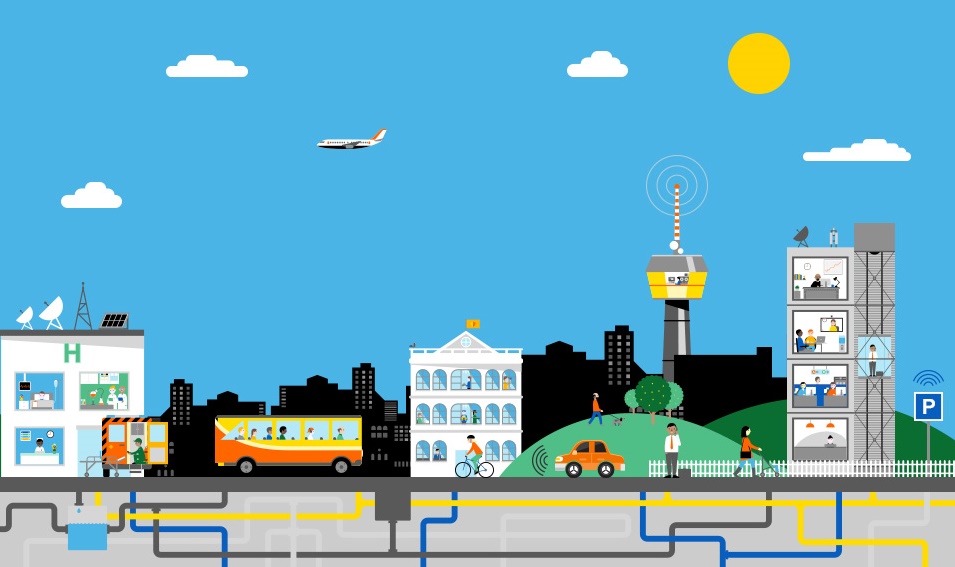 In January 2016, the Indian government released a list of 20 smart cities for the 'Smart Cities Mission'. These 20 cities will be the first to receive funds, thus kick-starting the process of developing them into 'smart cities'. This step has been taken by the government to tackle the ever-increasing urban population coupled with limited resources and pressure on public finance from the government.
What are Smart Cities?
A 'smart city' is an urban region that is highly advanced in terms of overall infrastructure, environmentally sustainable real estate, communications and market viability. It is a city where information technology is the favoured medium to provide various services to residents.
Since cities majorly comprise buildings – residential complexes, office spaces, educational institutions, recreational facilities, warehouses, etc. – it is important that smart technology is first adopted within these buildings. By installing the right IT infrastructure, connecting equipments within and between buildings, and employing analytics, a cluster of smart buildings can result in a smart city.
What are Smart Buildings?
Unlike the typical image that we may have about smart buildings, these are not futuristic structures resembling a sci-fi movie backdrop.
A smart home or building is a structure that is equipped with special wiring for useful services that make it efficient, and these are already in existence. Integration is the key to developing smart buildings. It enables occupants to remotely control or program an array of automated home electronic devices by entering a simple command.
For example, a homeowner on vacation can use a Touchtone phone to arm a home security system, control temperature gauges, turn appliances on or off, control lighting, program a home theater or entertainment system, and perform many other tasks.
Likewise, smart buildings with smart windows can detect the weather outside and tint the glass suitably, to adjust the light in the room. Smart doors detect and notify the presence of intruders to homeowners' on their smartphones.
Why Develop Smart Buildings?
Smart buildings facilitate reduction in energy consumption, provide enhanced security, and promote sustainable development. They contribute to higher quality of life, and pave way for a greener future. The Internet of Things (IoT) and the integration of smart buildings ensure a self-sustained, automated and interlinked community.
According to United Nations Environment Program (UNEP) reports, buildings use about 40% of global energy. They also emit approximately one-third of the greenhouse gases in the world. However, this energy consumption by buildings can be reduced by 30-80% by employing latest technology. Thus, smart buildings ensure energy efficiency at minimal cost.
How are Smart Buildings Developed?
Smart buildings are developed by integrating multi-dimensional technology in buildings to facilitate smooth communication, increased convenience, reinforced security and energy efficiency. In addition to creating new buildings, smart technology can be applied to existing buildings. The concept of developing smart buildings is dynamic; a building can be continuously upgraded to include new features that suit its occupants.
While creating smart buildings, the best approach to follow is to evaluate the existing infrastructure and improve its efficiency. Any financial gains from this activity can be put to use for other improvements, thereby creating a cycle. Once the systems are in place, occupants also need to be sensitized and educated about the technology, with continuous inputs in case of technology upgrades, to ensure success of the concept.

Sahil Ahuja
09 Jan 2019

Good product and awesome team.

Anil Singhal
09 Jan 2019

Happy with the quality and service Team

Subha Singh
09 Jan 2019

I like the service offered by fenesta. Its one of the best upvc window making company. Thanks to fenesta raipur and Mr.prakash

Nimesh Kher 
09 Jan 2019

It's great I have recently renovated my room with fenesta windows really mind blowing.

Rakesh Baweja
09 Jan 2019

Happy with the team and services