Facts You Should Know about Slide and Fold Doors Jul 27, 2022 By &nbspFenesta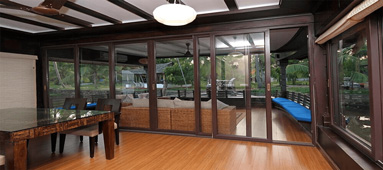 With the rising popularity of uPVC and aluminium as fenestration materials, people can now choose from a wide range of door styles and designs when it comes to building a new home or simply replacing old doors. It is crucial to choose the right doors, with an aesthetic appeal that matches the interior décor and outer façade of the home, while also offering benefits like thermal and sound insulation, easy maintenance, etc.
For a long time now, folding doors have enjoyed a lot of popularity among homeowners and real estate developers alike. Now, with the added benefits of uPVC and aluminium and the great design flexibility they offer, modern-day folding doors, better known as slide and fold doors, are the perfect option for homeowners who want to enhance the look of their homes while ensuring great savings in the long run.
Whether you opt for a uPVC folding door or if it's the aluminium folding doors that catch your fancy, you can bet on several amazing benefits like energy efficiency, thermal and sound insulation, low maintenance requirements, ease of use, etc. While the utilisation of advanced, efficient materials for the manufacture of folding doors is a more recent innovation, the doors themselves have been around for a while now. In fact, here are some interesting facts about the slide and fold that you may not have known:
The History of Folding Doors Can be Traced Back to Ancient Times
As mentioned before, folding doors are not exactly a new concept. However, did you know that these doors actually pop up sometime around the 1st century? A folding door from the Roman Empire was actually found in an excavation of Pompeii, believed to have been used in 1AD, while another bi-fold door, believed to be 5000 years old was excavated in Zurich.
Source: Wikipedia
You Can Fit Slide and Fold Doors Anywhere
The grace and elegance offered by these folding doors are not limited by application, as this is one of the most versatile door styles available today. As the panels fold upon themselves and can be stacked to the side, they not only allow for easy ingress and egress, but they also use very little space. This makes them perfect for areas where space is at a premium. Inside the home, they can be used as a partition such as closet doors, shower doors, balcony or patio doors, bedroom doors, etc. They can also be used at the entrance or exit, where their aesthetics can be designed to seamlessly blend with the architecture of the home.
These Doors Can Help You Save Money on Your Electricity Bills
Thanks to all the technological advancements in the world, you can now choose from uPVC and aluminium slide and fold doors for your home. These doors come with a high thermal efficiency quotient, fusion-welded joints, multi-chambered profiles, airtight seals with silicon sealant, and more, which ensure there is no loss of heat through the doors. They help keep the home cool during the summers and warm during the winters, which in turn helps reduce the load on air conditioning systems. Also allowing ample natural light into a room, these doors help reduce the need for artificial lighting. With such amazing benefits, not only are the doors highly functional but can also help you save on utility bills.
There is no doubt that slide and fold doors are a great choice for homeowners.

Sahil Ahuja
09 Jan 2019

Good product and awesome team.

Anil Singhal
09 Jan 2019

Happy with the quality and service Team

Subha Singh
09 Jan 2019

I like the service offered by fenesta. Its one of the best upvc window making company. Thanks to fenesta raipur and Mr.prakash

Nimesh Kher 
09 Jan 2019

It's great I have recently renovated my room with fenesta windows really mind blowing.

Rakesh Baweja
09 Jan 2019

Happy with the team and services