Creating the Perfect Dining Spaces.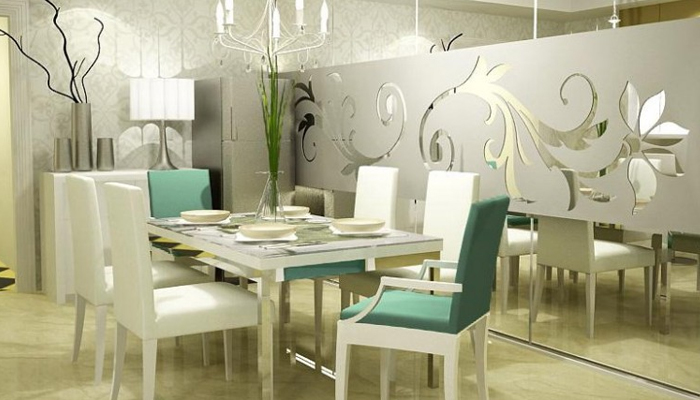 Dining spaces are a classic way to celebrate your personal style. Whether you are hosting guests for an elaborate feast or enjoying a quiet meal with your family, dining room is a perfect place where people can come together, feast on mouthwatering delicacies and engage in meaningful conversations. Stylish dining areas vary from being conventional to modern. Following are some ideas that you can consider using while scaling up your dining space. Patterned Spaces
A slight touch of pattern on the uPVC windows can enliven up your dining area.
Modern drapes with floral patterns are a good way to keep your wood furniture from looking too obsolete.
Muted floral wallpaper can provide a modern feel to balance a space that is filled with accessories like hanging chandeliers and so on.
Oversized candelabrums can be used as a sculptural centerpiece to add a touch of elegance to the ambience.
Colored Spaces
For those with modern sensibilities, white is a favorite choice for not only the walls but also the furniture. You can furnish with a set of bright colored-cushioned chairs that can prevent the white from looking too bare.
You can consider the exposed brick architectural form to create a more rustic charm.
For a more finished look, consider a fresh coat of paint in colors such as mauve and sea green.
Cozy Spaces
A small and traditional set of table and chairs can provide a homey feel to the otherwise formal setting which includes oversized wall-cases, crockery cabinets and bright lighting.
Having comfortable sofa-chairs installed in the corners of the room can add a great deal of smugness to the overall ambience of the room.
So, whether the palates are being satisfied in a sophisticated setting or an intimate one, your dining space must fulfill its purpose of being a welcoming place for family and friends. But at the same time, making a style statement that is uniquely you is equally important as well.

Sahil Ahuja
09 Jan 2019

Good product and awesome team.

Anil Singhal
09 Jan 2019

Happy with the quality and service Team

Subha Singh
09 Jan 2019

I like the service offered by fenesta. Its one of the best upvc window making company. Thanks to fenesta raipur and Mr.prakash

Nimesh Kher 
09 Jan 2019

It's great I have recently renovated my room with fenesta windows really mind blowing.

Rakesh Baweja
09 Jan 2019

Happy with the team and services