Color Ideas for Recreating Your Living Area Mar 09, 2016 By &nbspFenesta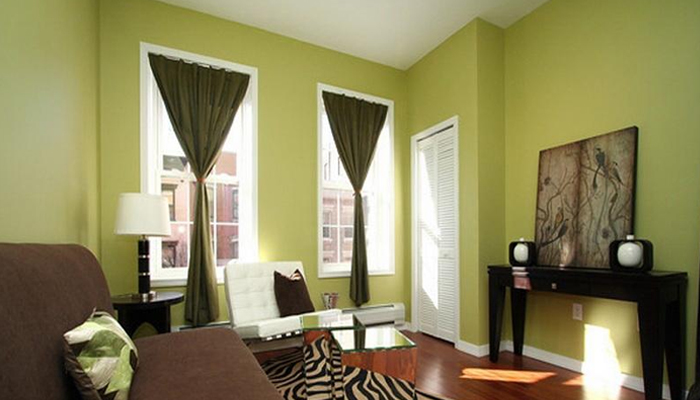 Picking the color for home interiors is very difficult and more so for the living area as it is most visited and used area. The right color can easily transform the living room into a comfortable and elegant space of your dream, but the wrong choice can change it into a nightmare. To make this complicated task easier here are some color palette options to choose from:
High-Gloss Beige-Gray: A perfect base for the living room decor is the neutral color. Paint the living room walls pale beige-gray and trim in glossy white to add a clean and fresh tone. To accentuate the living room interior designs add contrast with dark pieces like coffee table or fireplace.
Red: If you want to make a bold statement, go with red for living room walls. This color adds richness and warmth to the room. Most designers believe it to add classic touch to the living room and at the same time boldly liven up the modern interior.
Sunny yellow: This color is known to have stimulating and warm qualities, which will liven up your living room considerably. If pulled off right, it has an amazing energizing effect without being too loud. Team it up with royal blue sofa and white coffee table with nice floor lamp.
Bright green: For a classic appeal, try a bright green (not neon!). This color is known to lend an organic richness to the ambiance and it can team quite well with a toned-down fuchsia to add a little pop.
At the end remember, if you are still confused then you can always fall back on traditional neutrals as they are a perfect background for any living room. You can add accessories in bright hues or muted shades to create the desired look. It is safe to pair brown with tan and green with red to create a calming but interesting atmosphere that evokes comfort and conversation.

Sahil Ahuja
09 Jan 2019

Good product and awesome team.

Anil Singhal
09 Jan 2019

Happy with the quality and service Team

Subha Singh
09 Jan 2019

I like the service offered by fenesta. Its one of the best upvc window making company. Thanks to fenesta raipur and Mr.prakash

Nimesh Kher 
09 Jan 2019

It's great I have recently renovated my room with fenesta windows really mind blowing.

Rakesh Baweja
09 Jan 2019

Happy with the team and services