Be A Pro – An Interior Designer Of Your Home Jun 30, 2017 By &nbspFenesta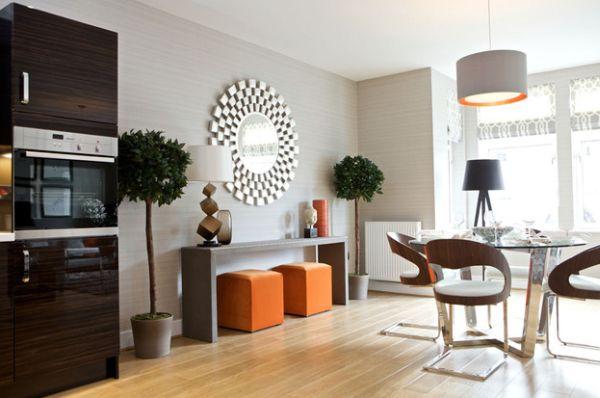 You will agree to the fact that a home is never complete without the personal touch of a homemaker. If you have bought a new home or you are renovating an old one, there are three ways to go about it:
Hire a professional – interior designer
Do it yourself – be an interior designer
Both – Hire a virtual interior designer by the hour
It's important to know when to hire a interior designer, be your own interior designer or maybe hire a virtual designer on hourly basis who can guide you in making choices and suggestion that you need for your home WHEN TO HIRE AN INTERIOR DESIGNER:
You have the money to hire a good interior designer but time is a constraint.
If it's a style statement and you would like to flash it in your social circle.
You don't have enough time.
Are you the creative type? Do you have the ability to visualize – if no, then don't risk it, hire one.
Remember, no one has an idea about your living style, functionality of your home better than you do. So why not add a skill and be your own boss, when it comes to decorating your own space with your tastes and choices. WHY DO IT YOURSELF:
You don't have to pay exorbitant amount to a professional.
You will increase your knowledge and skills on interior designs and ideas.
Functionality of your home will be as per your requirements.
Sense of accomplishment and pride will be immense.
Every nook and corner of your home will have a story to tell.
Let me assure once you read through this, you will have the confidence, courage and inspiration to take the plunge to decorate your home by walking that. …Extra mile. Step by step guide to be a pro in designing the interiors of your castle.
1. If you don't know how should your home look like … don't worry.
What to do: Start collecting pictures using interior magazines, Interior design websites or from Social media, attend online webinars by experts on interiors. More knowledge you extract, better ideas you will have. Make a file or document, which will be your reference point later. How to do: Become a member of social groups on interiors, make inspiration and idea boards on social platforms and subscribe to newsletters from Interior websites which will be very informative and will keep you refurbished with the latest trends. Outcome: While you do that, you will realize what kind of interiors you like from the selected collection. Streamline yourself to the below mentioned styles of homes
1. Modern style

2. Classic style

3. Rustic style

4. Modern + classic style – Transition style (Very Popular)

5. Retro style

6. Contemporary style

6. Contemporary style

7. Minimalistic style

8. Elegant country style
Narrow down the collected information:
What to do: It's important now to narrow down your collected information gathered from various sources. How to do: Choose one from the above styles for your home for living room, bedrooms, bathroom, kitchen etc. Outcome: Ideas , patterns, texture, paint color, designs, furniture style ,décor style will be formalized. Planning: Collecting information and planning are the most important things while decorating your home. Quality comes with a price, but smart shopping is a knack, which each one of us has.
Few tips on planning and budgeting for your home project:
Break the budget into 5 important components of your home (depending on what you need the most to complete interiors) :

Flooring – 20%
Furniture – 30%
Paint – 20%
Décor – Furnishings and upholstery - 20%
Accessories – 10%

Make a list of what your need, want and desire. This is the most important activity while you are planning and budgeting. It will help you control overshooting of the budget.
Remodel your old furniture if you have. While creative juices will think through on how to reface old items like chairs, cabinets etc, here is a tip, repolish them matching the theme color, and change the upholstery if it's a chair with a contrast color mix of the theme. Try DIY with old items, it's a great guide.
Grab sale offers online and in stores.
Keep options open for second hand furniture. You never know, you get lucky to get the furniture you need at a low cost. And by now we have learnt the art of making old as good as new.
If creativity and ability to visualize is not there:
Relax, here's a tried and tested option! What to do: Download the Interior décor software (Free) and Interior design gaming apps related to home décor, 5d design and 3 D design. While you play these games you will be placing furniture in different rooms to decorate different homes, in different styles this way you will be able to visualize and create a visual reality home décor. How to do: Play these games and become a pro at designing homes. Experiment on your smartphones and implement it in your home. Outcome: Your creative think tank is bound to expand and the visual ability will increase and you can imagine how a newly bought furniture, upholstery or paint will look like in your own home.
5. Layout design:
What to do: Make a rough sketch of your space which you want to decorate and start placing the furniture in your drawing.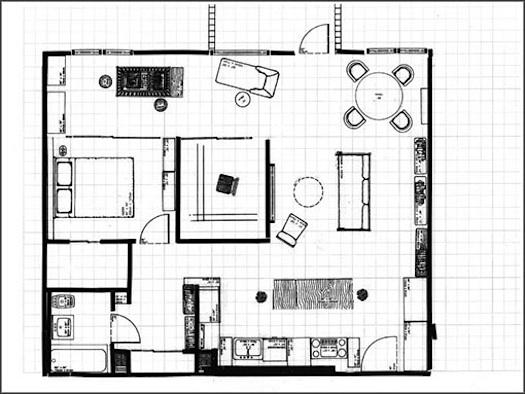 How to do: The above picture shows how you should start implementing your plan. Take proper measurements of your home. Outcome: Sketch will show you 2 things: a) How much space will be occupied with furniture –keep it clutter free. b) It will help you order and shop for necessary home items and you will have organized space for each and every item .
6. Choose the right color and paint for your home:
What to do: Check out the websites offering paints and designs with latest trends. How to do it: Using tools on the paint websites will help you detect the right paint for your home with paint budget detector , color catalogue – will help you choose the colors, paint selector and color visualizer will allow you to a click a picture of your room which you want to paint and with paint selector you can visualize and create your home interiors . Its couldn't have been more simpler!! Outcome: Before making any spends on paint, with "visual detector", you would have gained the confidence and assurance on the color you want for each of your room. Nail down a very important tip while choosing a color scheme. As you have a very good sense of style by now, it becomes important to choose the right color scheme. Use three colors or hues keeping your furniture color, upholstery color and accessories in mind. Colors of the room will reflect the mood , so combination of 3 well coordinated shades will enhance the look of your room. Here are few examples of color schemes for different rooms.
Image Credit: HGTV.com

Image Credit: Pinterest

Combination of colors in Living room

Image Credit: HGTV.com

A perfect Kid's room

Image credit : countryliving.com

Combination of Exotic orange wit sensational Blue and brown
While the above are plain simple walls, you can enhance your space with textured walls or wallpaper options like
6. Flavor of Texture:
While the color is an important factor in the décor of the home, texture when added, enhances the sophistication and classiness in your space. Texture in the room can be added through various add ons like drapes, leather, satin or a velvet, Linen, jute, silk and so on. Combination of a right texture to your space will impact the overall appearance of your house; so select the latest trends in textures wisely, you will find plenty of options to choose from. Choose the texture keeping the color scheme in mind , else can be disastrous . Here is an example of texture applied to the room. While the silk, suede and cotton are intensifying the look; velvet leaves behind the softness on the sofa.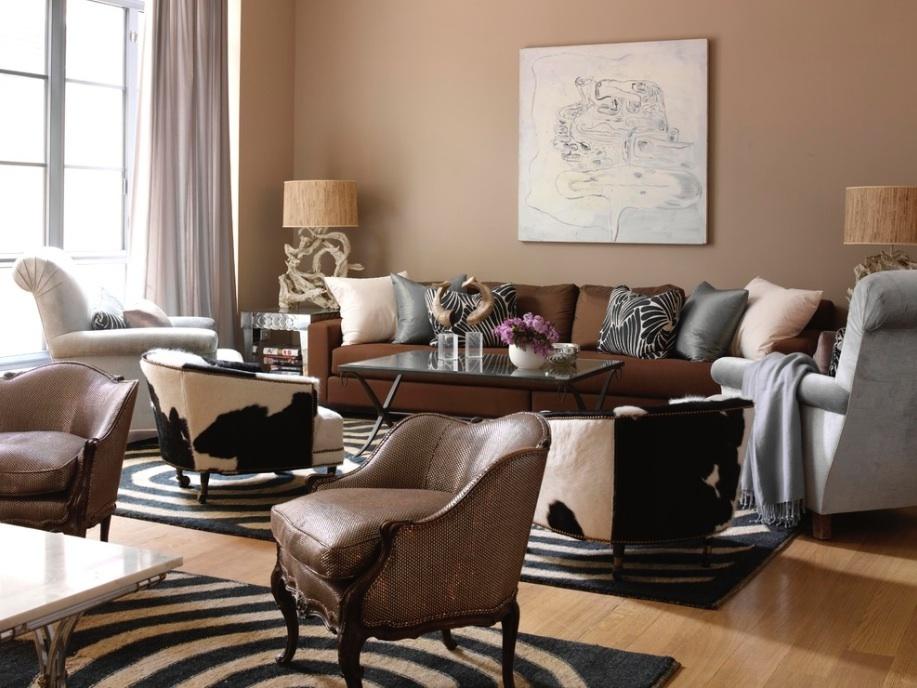 7. Furniture at its best:
Never make the most common mistake of buying too many small furniture. It will clutter up your room. Having ample walking space in the house should be at the back your mind at all times. Bring on that Statement piece (3 seater or 2 seater sofa. depending on the size of your room) which will take the center stage in your living room or bedroom .Mix it well with comfy arm chairs or club chairs to give a balanced look to the room. Organize your space with small and big both, to give a splendid style statement to your home.
8 Accessorize it well:
Use a combination of big and small pieces of accessories for your space to fill the corners well. Minimalist is the right mantra with accessories. Spend on unique showpieces for your home, keeping the theme and décor in mind. Check out options in Matt finish products (Latest trend of 2017).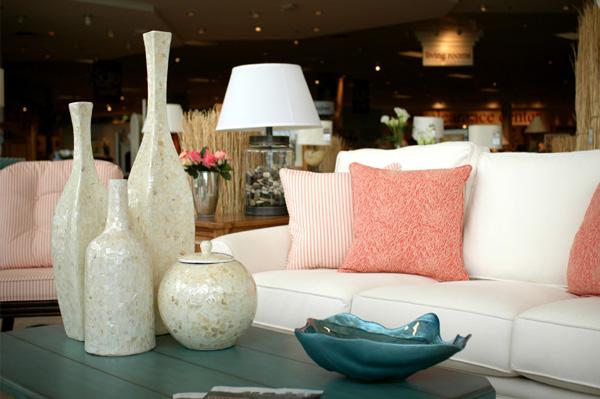 9 . Lighten up the space with the perfect windows:
All the efforts made to decorate your home is a waste if the rooms don't have enough light. The impact of light will brighten up the space and will give you the extra warmth and brightness you had been seeking. When selecting a window option nothing beats the quality and various options provided by Fenesta windows. Here are the top 10 reasons to choose Fenesta windows and doors for your home: 1. Its never ending collection of picturesque designs 2. Have the style to match every single need of your home, be it kitchen, living room, bedroom, bathroom etc. 3. Few styles of Fenesta are: a) Sliding windows: which occupies less space b) Tilt and Turn windows: best suited when your home needs ventilation without major dust ingress c) Bay windows: best suited for spacious room with high ceilings and adding touch of elegance to your room. d) Combination windows: combination of fixed window with different types of windows to deliver a completely new and stylish twist to the room e) Casement windows: the sash hinges enables the window to swing in and out. A popular choice amongst people 4. Its international design and various color options will match with your décor 5. It's made of weather resistant special UPVC blend which ensures all doors and windows retain its shape, color luster for long 6. It has excellent energy efficiency and environment sustainability 7. It is equipped with special drainage system that prevents rainwater from seeping in and spoiling your home.> 8. Fenesta products come with 10 years warranty on profile and one-year warranty on hardware and a very professional after sales service team across all cities of India. . 9. Hassel free end to end service with 365 days customer service 10. Its environment friendly, recyclable and insulation against pollution and dust, hence keeps your home noise and dust free. It's a green solution for your spectacular home. Hope these hacks to be an interior designer for your home has inspired you to create your own space with your style. Do share your stories with us, to inspire others to make one.

Sahil Ahuja
09 Jan 2019

Good product and awesome team.

Anil Singhal
09 Jan 2019

Happy with the quality and service Team

Subha Singh
09 Jan 2019

I like the service offered by fenesta. Its one of the best upvc window making company. Thanks to fenesta raipur and Mr.prakash

Nimesh Kher 
09 Jan 2019

It's great I have recently renovated my room with fenesta windows really mind blowing.

Rakesh Baweja
09 Jan 2019

Happy with the team and services