Is Your House Disaster-Proof? Nov 09, 2015 By &nbspFenesta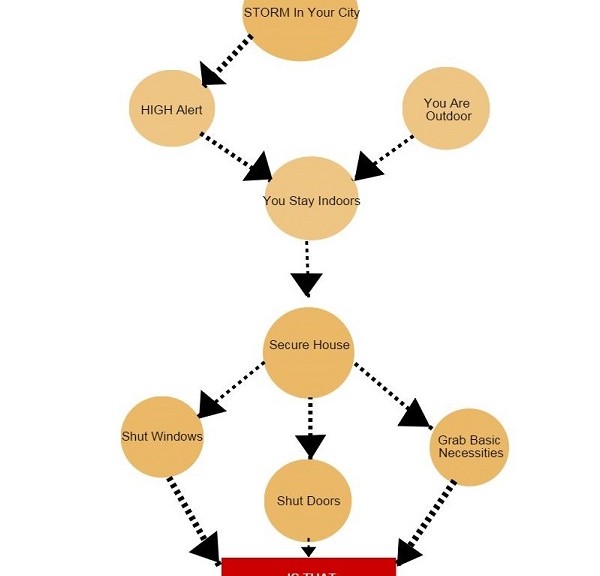 An Overview of How to Ensure your House Remains Safe During Natural Calamities
According to the World Disaster Report, from 2004 to 2013, 6525 natural disasters took place because of which a 100 million people lost their lives and millions of dollars worth of property was lost. In recent years, a sharp rise in natural calamities has been observed. The uncertainty of the situation demands immediate action.
The question then arises, have you taken measures to protect yourself and your house from these disasters?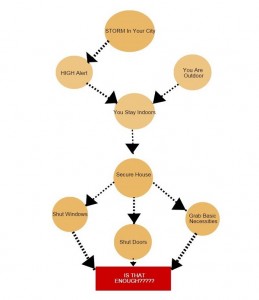 (Here what happens during a natural disaster)
What You Should Do - Secure Your Windows First
As absurd as it may sound, securing your windows is important since they are the first to crack in the event of a disaster. If a storm or flood occurs, imagine the risk of staying indoors with broken windows. However, in reality, most people overlook these and fail to secure them. As the saying goes, "Procrastination is the thief of time." Catastrophes do not send memos before they strike and it really depends on us as to how secure can we keep our house and ourselves.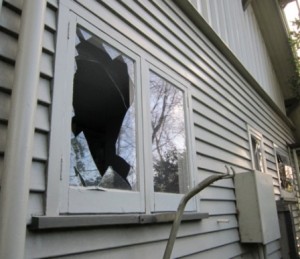 (Cracked windows run a high-risk factor)
Tips to Safeguard Your Windows
1. Apply Putty or Caulk If you notice draft seeping near the window trim, apply putty or caulk, which is easily available in any hardware store, to the affected area. This ensures that water does not drip or leak.
2. Paste a Vinyl Sheet Convenient and easy to use, pasting a vinyl plastic sheet with a double foam tape helps protect the house during heavy monsoons and intense heat.
3. Fix a Plywood Sheet The best way to prevent your windowpanes from cracking during storms, earthquakes or floods is to hinge a plywood sheet to the exterior of your window using screws. You can make a small cutout for ventilation as well.
4. Use an Awning A novel method to safeguard your window is to use an awning, which will protect your house from rain and heat. Ensure that the material used for this is strong and resistant enough. Additionally, an awning with a compact design gives better results. These solutions are easy to implement. However, they are just temporary solutions. So what can we do to secure the windows of our home for long-term?
Weatherproof Windows - The Permanent Solution Today's cutting-edge technology has made it possible to design windows that will sustain any type of weather. Their material, design and installation are suitable for different situations.
Let us take a glimpse at what makes these windows special.
1. Use of uPVC This special material known as unplasticised Polyvinyl Chloride (uPVC) is responsible for unmatched strength against impact and mechanical abrasion. It is composed of titanium dioxide and calcium carbonate, which adds to its properties such as toughness and chemical resistance. It is heat and age resistant, which means once you have installed uPVC windows made of this material, they will last a long time.
2. Unique Design The design of windows plays an important role in combating rain, storms and strong winds. The steel reinforced sashes provide firmness. The use of gradients, drain chambers, hurricane bars, sill arrangement and other state-of-the-art technology are remarkably resistant to changing weather conditions.
3. Efficiency Efficient windows have proved their supremacy in withstanding weather variance. They require low maintenance, come with an air proof seal that enhances the use of air-conditioning and keeps noise out. Preserve all those wonderful memories in your beautiful home with these safeguard tips.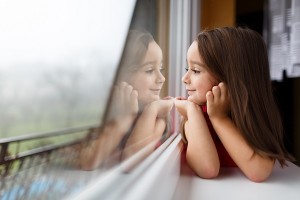 (A window is your view to the outside world)

Sahil Ahuja
09 Jan 2019

Good product and awesome team.

Anil Singhal
09 Jan 2019

Happy with the quality and service Team

Subha Singh
09 Jan 2019

I like the service offered by fenesta. Its one of the best upvc window making company. Thanks to fenesta raipur and Mr.prakash

Nimesh Kher 
09 Jan 2019

It's great I have recently renovated my room with fenesta windows really mind blowing.

Rakesh Baweja
09 Jan 2019

Happy with the team and services